Your Ultimate Guide to Planning a Dreamy Beach Wedding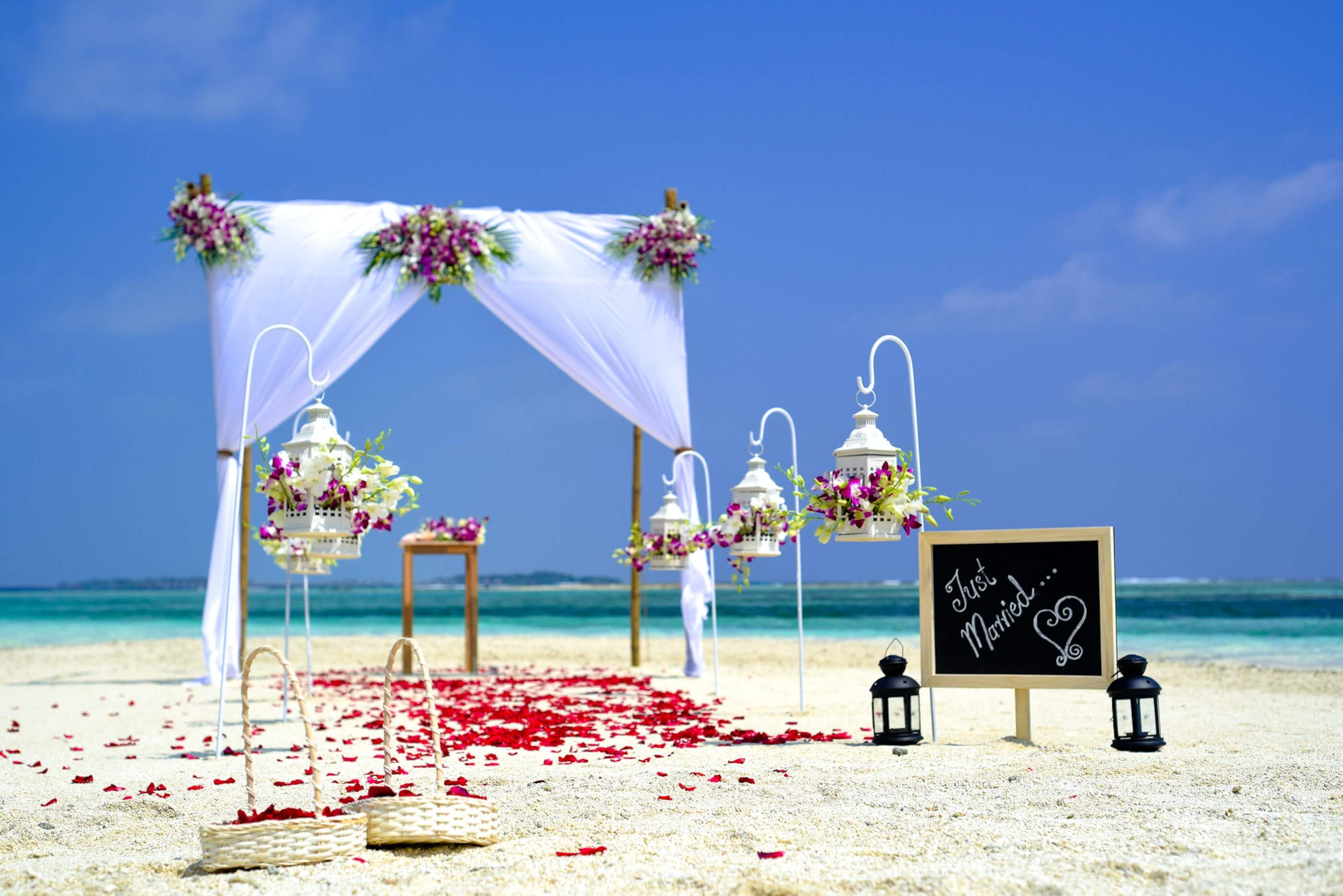 Beach weddings have an undeniable allure. Picture golden sand, gentle waves, and the enchanting backdrop of the ocean.
If you've always dreamed of saying "I do" with the sun on your face and the sand between your toes, a beach wedding might be the perfect choice for you.
In this ultimate guide, we'll walk you through everything you need to know to plan the beach wedding of your dreams.
---
Choosing the Perfect Beach Location
When it comes to beach weddings, location is key.
Start by researching potential destinations that align with your vision. Consider factors such as accessibility for you and your guests, permit requirements, and available venue options.
From the pristine shores of the Maldives to the stunning beaches of Hawaii or the romantic coastal towns of Italy, the world is filled with amazing beach wedding destinations waiting to be discovered.
---
Preparing for Your Guests

As you plan your beach wedding, it's essential to keep your guests' comfort in mind.
Send save-the-dates and invitations well in advance to give everyone ample time to make travel arrangements.
Provide a list of accommodation options in different price ranges and offer transportation details from nearby airports or hotels.
Additionally, share suggestions for local activities and attractions to make their stay even more enjoyable.
---
Dressing for a Beach Wedding
Beach weddings call for attire that reflects the laid-back atmosphere while still remaining elegant.
For the bride, lightweight and flowy wedding gowns made of breathable fabrics like chiffon or organza are perfect. The groom can opt for a linen suit or a more relaxed jacket and trousers combination.
As for guests, encourage them to dress in light, airy fabrics and remind them to choose footwear suitable for walking on sand.
---
Creating the Perfect Ceremony Setup
When it comes to setting up your beach ceremony, consider the natural beauty surrounding you. Choose a spot that offers breathtaking ocean views and plan your décor accordingly.
Incorporate elements like seashells, driftwood, or tropical flowers to enhance the beach theme. Ensure comfortable seating arrangements for your guests and consider providing shade, such as parasols or canopies, to shield them from the sun.
---
Beach-Inspired Ceremony Details

Add unique touches to your beach wedding ceremony that embrace the coastal theme.
Consider a sand ceremony where you and your partner symbolically blend sand from different locations into a single container, representing the unity of your lives.
Another beautiful option is a beach blessing, where guests join hands and offer their well wishes as the waves crash in the background.
Select music that complements the beach atmosphere, such as acoustic melodies or gentle ocean sounds.
---
Practical Considerations
While beach weddings are undeniably romantic, they can also come with certain challenges.
Prepare for potential weather changes by having a backup plan, such as a tent or an indoor venue nearby.
Consider the comfort of your guests by providing seating with cushions or blankets and offering refreshments to keep them hydrated. Ensure there are easily accessible restrooms for everyone's convenience.
---
Planning the Beach Reception

As the ceremony concludes, it's time to celebrate with a beach-inspired reception.
Explore catering options that highlight local seafood delicacies and tropical flavors, creating a feast that delights the senses.
Consider entertainment choices like a live band playing beach-themed tunes or fun beach games like volleyball or frisbee. Set up the reception area with soft lighting, incorporating elements like string lights or lanterns, and arrange seating to maximize the ocean views.
---
Capturing the Magic

With the stunning beach backdrop, you'll want to ensure your special moments are captured beautifully.
Hire a photographer experienced in outdoor and beach settings, someone who knows how to make the most of natural lighting and scenic surroundings.
Schedule your photography sessions during the golden hours of the day, either early morning or late afternoon, when the light is soft and golden.
Take advantage of the picturesque beach setting for memorable photos that will last a lifetime.
---
A beach wedding promises an enchanting and unforgettable experience.
From selecting the perfect beach location to planning every detail with care, your dreamy beach wedding awaits.
Embrace the romance of the sun, sand, and surf, and create memories that will be cherished forever.
Follow this ultimate guide, and you'll be well on your way to saying your vows amidst the breathtaking beauty of the beach. Happy planning!