Your Boho Wedding Guide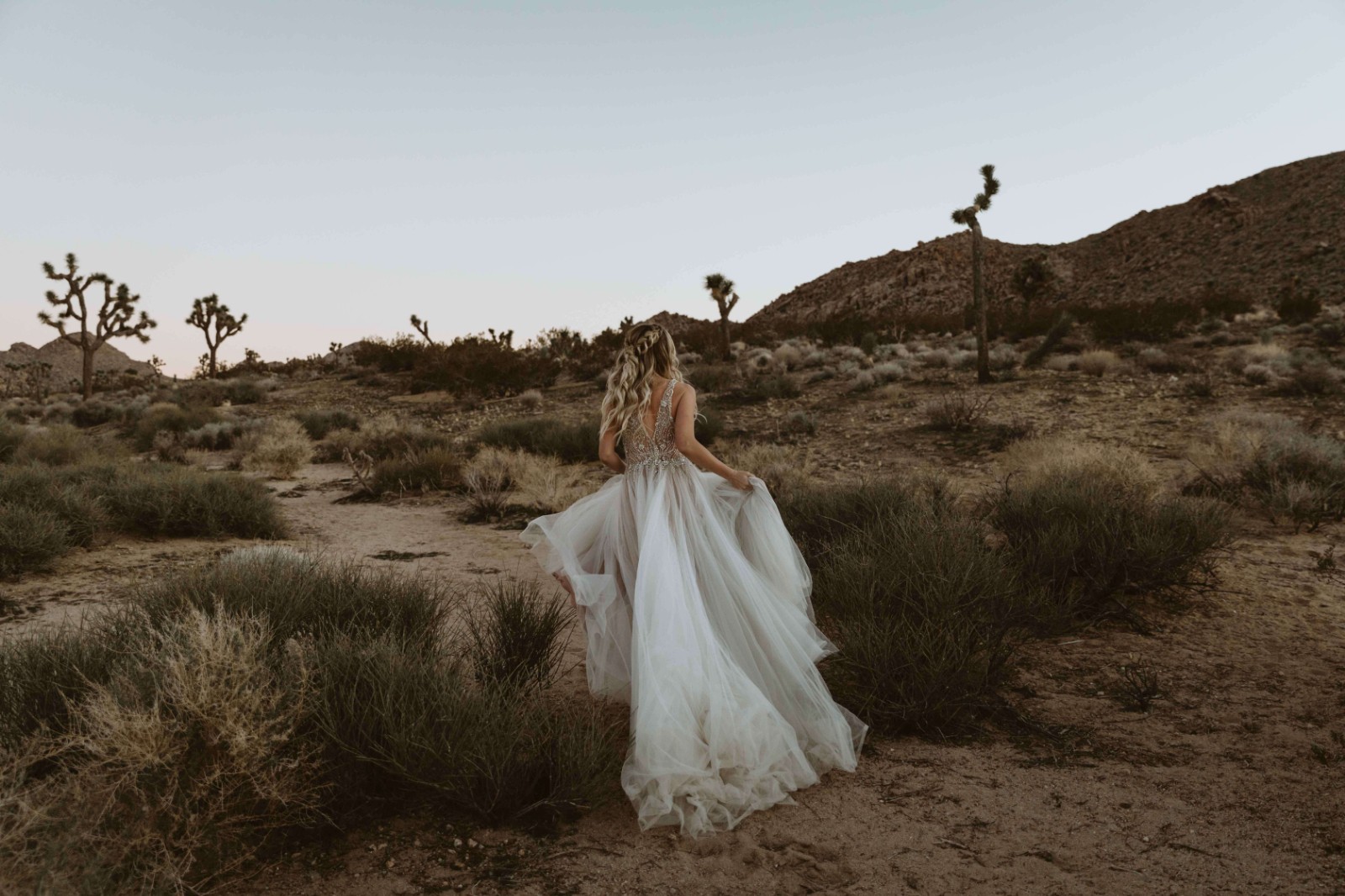 If you've already begun the process of planning your wedding and selecting your wedding dress, you're likely aware of the multitude of wedding themes available. From a traditional celebration to a boho wedding, selecting the right theme can greatly impact the ambiance of your special day. For those who draw inspiration from romantic, whimsical, and ethereal elements, a bohemian wedding may be a perfect choice. This theme incorporates flowy fabrics, natural elements, and a variety of colorful and textured floral arrangements, allowing you and your partner to fully embrace the bohemian aesthetic.

But what distinguishes a bohemian wedding from other types of weddings? Does it have to be held indoors or outdoors? What are the essential details needed to bring your vision to life? And why are boho weddings so popular?
Boho couples prefer to break away from traditional norms. Incorporating elements such as geodes, crystals, and agates, as well as succulents, ferns, and eucalyptus, bohemian weddings prioritize a natural and earthy aesthetic. No matter what vision you have for your special day, if you are interested in incorporating bohemian style, there are a plethora of beautiful options to choose from.
If you are feeling uncertain about the time you've already spent on wedding planning or are simply unsure where to begin, we can help! Take a look at our comprehensive guide, "Your Boho Wedding Planning Guide" to learn more about what a bohemian wedding entails and what goes into planning one.
---
WHAT IS A BOHO WEDDING?
The term "bohemian" refers to a socially unconventional person, particularly one involved in the arts. A boho wedding incorporates elements of nature with celestial divinity, romanticism, and individuality, and is associated with freedom, ease, and a relaxed atmosphere. Key elements of a boho wedding include ethereal accents such as crystals and quartz, flowing dresses, fairy lights, and natural materials like feathers and dream catchers, along with green leaves, ferns, and dried flowers. While some may liken it to a hippie-style wedding, we prefer to see it as a free-spirited and whimsical way to express your artistic personality.
---
HOW DO YOU KNOW IF YOU'RE A BOHO BRIDE?
As a boho bride, you may also have a love for travel, culture, and adventure. You appreciate the natural world and prioritize eco-friendly choices in your wedding planning. You may prefer a more casual and intimate wedding celebration, with a focus on creating a warm and inviting atmosphere for your guests. DIY projects are also a big part of the boho wedding aesthetic, with handmade decor and personalized touches adding to the charm and individuality of the event. Overall, boho bride embraces a laid-back and unconventional approach to their wedding, allowing their personality and style to shine through every aspect of the celebration.
---
WHAT MAKES BOHO WEDDINGS DIFFERENT FROM THE REST?
A boho wedding is unique in its focus on nature and individuality. It embodies a relaxed and carefree atmosphere, emphasizing a stress-free and authentic experience for the couple and guests. The bohemian style allows for a creative expression of personality through natural elements, such as feathers, greenery, and floral arrangements. A boho wedding also often incorporates ethereal and mystical elements, such as dreamcatchers, crystals, and fairy lights, to create a romantic and enchanting atmosphere. While a boho wedding may have a minimalistic and simplistic approach, it still allows for personalization and a reflection of the couple's unique style and preferences.
---
WHAT'S THE DIFFERENCE BETWEEN A RUSTIC AND A BOHO WEDDING?
While both rustic and boho weddings share some similarities, they have some distinct differences that set them apart. A rustic wedding is typically more country or farm-inspired, with a focus on natural elements like wood, burlap, and mason jars. The style is often more vintage and shabby-chic, with a muted color palette and simple yet charming decor.
On the other hand, a boho wedding is more ethereal and free-spirited, with a focus on natural elements like feathers, crystals, and floral arrangements in a variety of colors and textures. The style is often more eclectic, with a mix of vintage and modern elements and a more vibrant color palette.
While both styles embrace a DIY approach and a laid-back vibe, a boho wedding tends to have more of a mystical and whimsical feel, while a rustic wedding leans towards a more cozy and homey atmosphere. Ultimately, the choice between a rustic and boho wedding comes down to personal style and preference.
What is the best part? You can combine the best of the two wedding themes and enjoy both of them!
---
WHAT TO CONSIDER WHEN PLANNING A BOHO WEDDING?
Planning a boho wedding involves various considerations. Regardless of the size of your wedding, it's perfectly fine to desire a stunning and unforgettable day. Although the boho theme is known for its carefree, celestial, and artistic qualities, you don't have to stick to conventional expectations. Here are some helpful tips to plan your dream boho wedding.
BOHO WEDDINGS: BUDGET
Boho weddings are not only stylish and enchanting, but they're also budget-friendly. One of the most significant advantages of this theme is that you can experiment with it while keeping the event intimate and laid-back. Unlike other themes, you don't have to stress about making everything perfect. You can opt for affordable and minimalist options, such as thrift decorations, handmade elements, simple wedding attire, and a basic wedding cake.
To further reduce costs, consider selecting a free wedding venue such as a forest, a relative's farm, a friend's backyard, or your grandparent's beach house. You can also save on attire by opting for less expensive boho dresses and groom's attire that still look stunning.
Planning a wedding can be a stressful and draining experience. Therefore, we recommend keeping it simple and enjoyable. Don't fret too much about everything being perfect. Instead, aim for a relaxed and carefree vibe, and have fun planning your boho wedding.
---
BOHO WEDDING: VENUE
For couples who are unsure of what to look for when choosing a boho wedding venue, the process can be overwhelming. With so many options available, it's challenging to know where to begin and what to consider. Typically, a boho wedding involves an outdoor ceremony and reception, with a focus on natural surroundings and an imperfect yet charming atmosphere.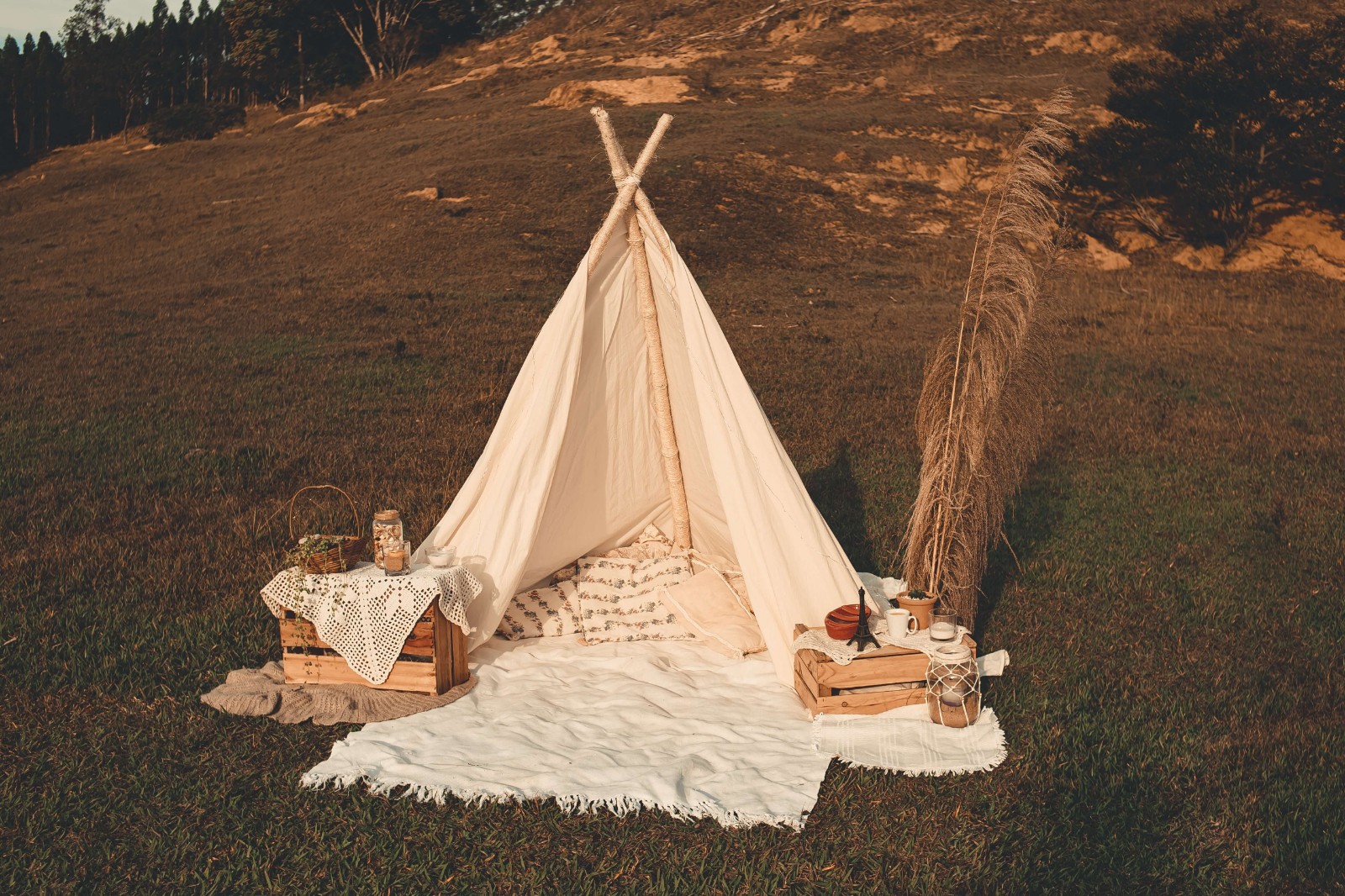 To help you find the ideal bohemian wedding venue, here are some questions to consider:
Does the venue offer outdoor space for the ceremony and reception?

Is the location surrounded by natural elements like trees, flowers, or water features?

Can the venue accommodate the number of guests you invite?

Does the venue provide any decor or furniture options, such as bohemian rugs, poufs, or teepees?

Are there ample parking or transportation options for guests?

Does the venue have any restrictions on music or noise levels?

Is there a designated space for getting ready or dressing rooms for the bridal party?

Are there any catering restrictions or requirements at the venue?

Does the venue have any backup plans in case of inclement weather?

What are the costs and availability of the venue, and what is included in the package?
That's a beautiful sentiment! Boho weddings are all about embracing the natural world and finding beauty in simplicity. The outdoor setting provides the perfect backdrop for a bohemian wedding, allowing the couple and their guests to fully immerse themselves in the beauty of nature. Whether it's a field, a garden, or a beach, the open air provides a sense of freedom and a carefree spirit that perfectly embodies the boho aesthetic. It's a wonderful way to celebrate love and the beauty of the world around us.
---
BOHO WEDDING: LOCATION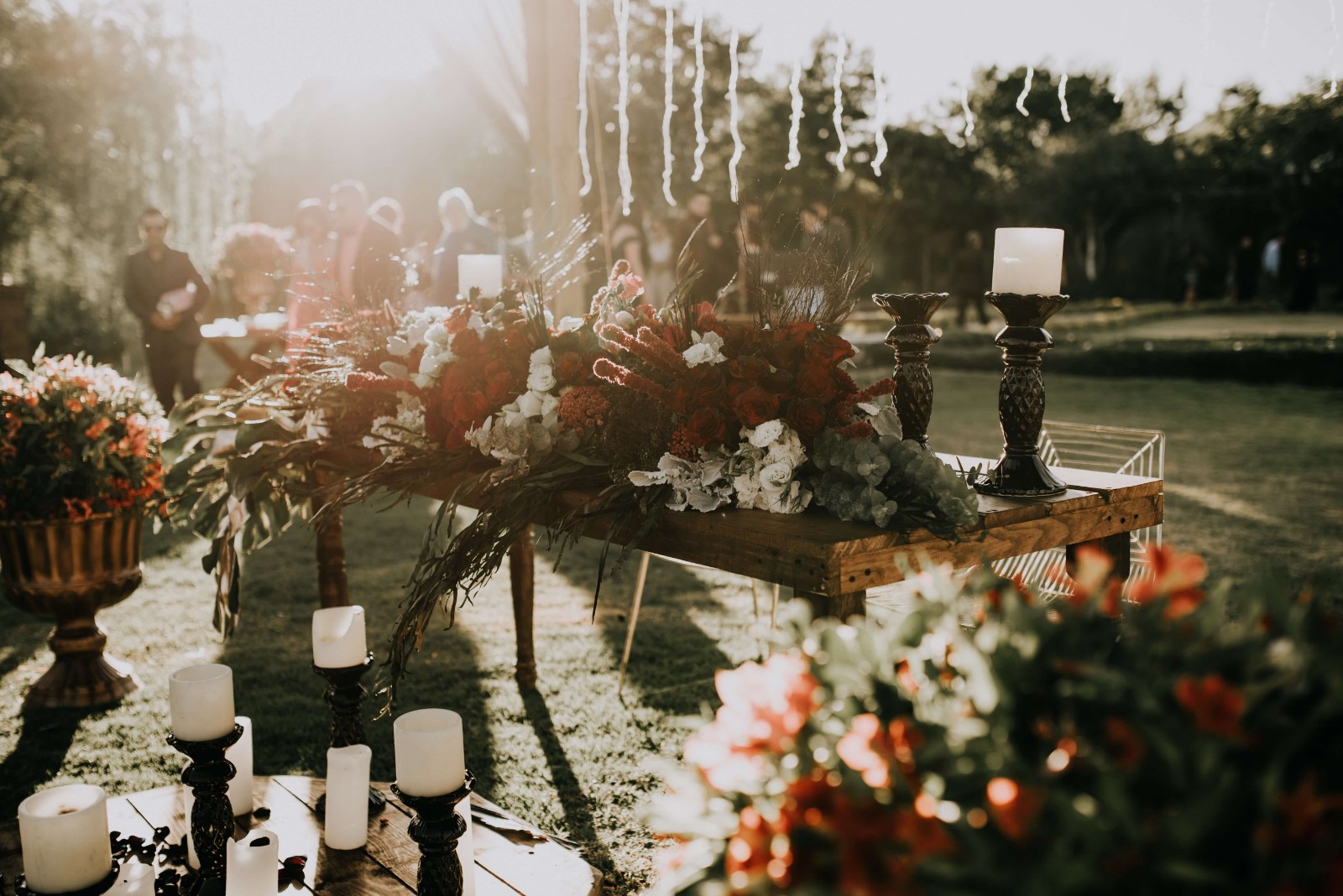 When planning a bohemian wedding, the choice of venue is an essential factor to consider. Boho weddings typically occur outdoors in a natural setting, which creates a unique and unforgettable experience for the couple and guests. Outdoor or rustic venues can be more affordable than traditional wedding venues, making them an attractive option for those who want to keep costs down.
One of the primary advantages of boho weddings is that they convey a relaxed, free-spirited, and informal atmosphere. The goal is to create a celebration that is both elegant and comfortable, which is why the natural setting is so crucial. Any location that highlights the beauty of nature is perfect for a bohemian wedding. It allows the couple to embrace the environment and create a unique experience that is tailored to their style.
The woodlands are a popular option for a boho wedding venue, as they offer an open canopy for more sunlight and provide a beautiful natural backdrop. Forests are another popular option, with less light and a sparse layer of plants creating a unique atmosphere. For those looking for a more adventurous experience, camping or glamping sites can provide an unforgettable experience.
Beaches are also popular for boho weddings, offering a stunning setting that combines the beauty of nature with the sound of the waves. Desert weddings are a unique option that can provide a stunning and otherworldly setting. Wineries, treetops, greenhouses, and conservatories are also popular choices, as they offer a beautiful setting that is both natural and elegant.
Backyards, hilltops, barns, and ranches are also excellent options for a bohemian wedding. These venues offer a more intimate setting that allows the couple to create a unique and personalized experience. Regardless of the location, the goal of a boho wedding is to embrace the natural environment and create a relaxed and informal atmosphere that celebrates the beauty of nature.
---
BOHO WEDDING: SEASON
When envisioning your dream wedding, which season comes to mind? Do you dream of a lush and fresh spring wedding, a sun-kissed summer celebration, or the enchanting snowscape of winter? Each season has its own charm and magic to offer.
If you are planning a boho-style wedding that celebrates the connection with nature, summer may be the perfect season for you. With its vibrant colors, warm weather, and endless outdoor possibilities, summer can provide the perfect backdrop for your special day.
However, if you prefer milder temperatures and want to avoid summer insects, late spring or early fall may be ideal. Just be sure to keep an eye on the weather and have a backup plan in case outdoor plans are not possible.
It is absolutely up to you and your loved one. We have a hunch it will be lovely regardless of the season you select!

---
BOHO WEDDING: FOOD AND DRINKS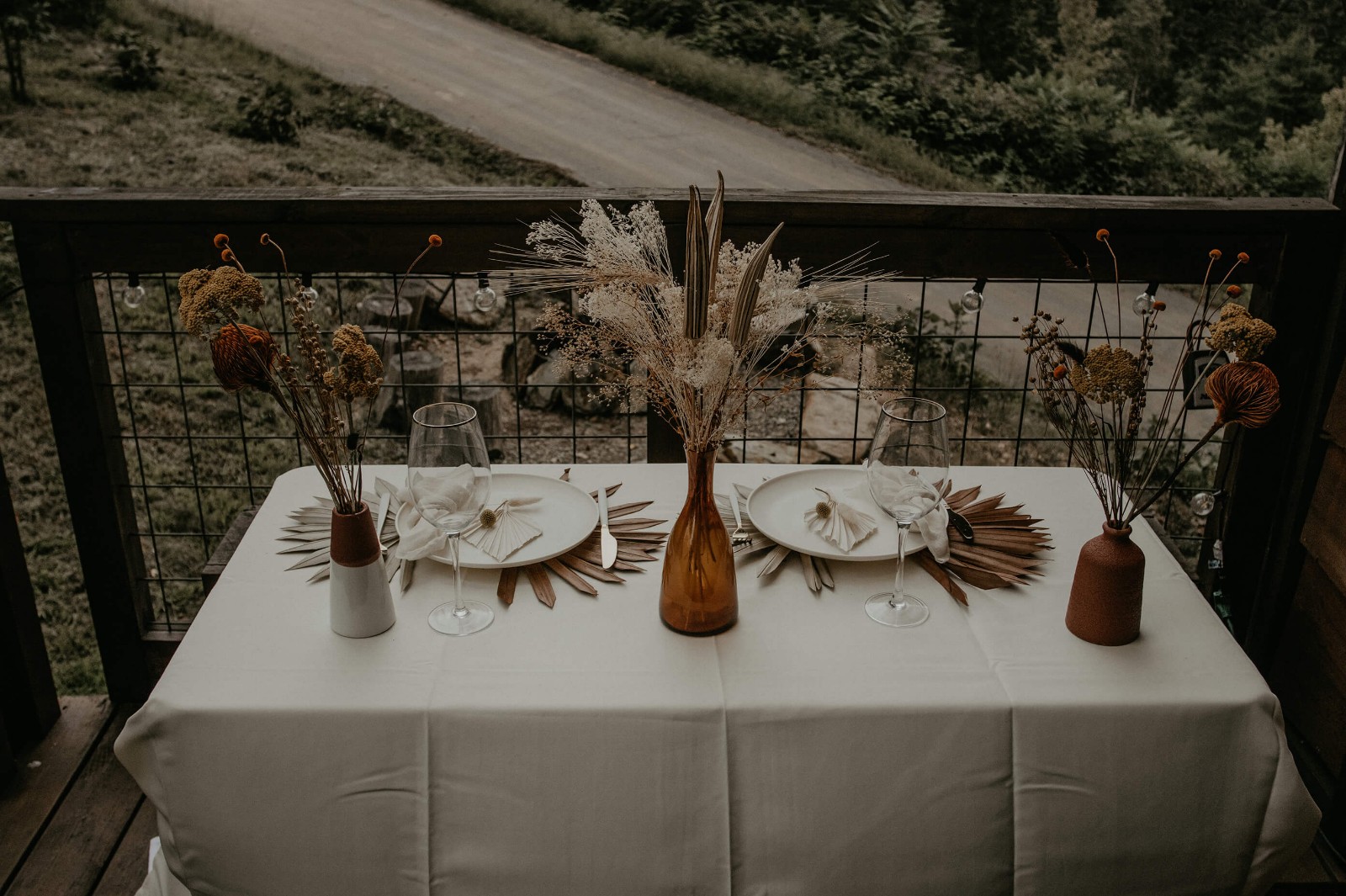 Feeling stressed about food and drinks for your bohemian wedding? No need to fret! A boho wedding is all about embracing a non-traditional, nature-inspired atmosphere and getting creative with your menu. Long tables and formal sit-down meals aren't necessary.
If you're working with a tight budget, consider making the food yourself or having family and friends bring a dish on a plate that matches the wedding theme. This can significantly lower your food costs, freeing up money for other wedding essentials such as photography or venue rentals.
From taco stations to mini-slider burgers, the way you present the food can help set the tone of the day and create conversation among your guests. Don't be afraid to get creative and have fun with your menu choices!
To add something extra special, consider offering yummy treats at DIY food stations, such as candy floss, caramel apples, and popcorn.
While champagne is usually a safe bet for drinks, try artisan brews, local brand wine, a soda station, or a cocktail happy hour to get your guests in the mood. There are several ways to get creative with your food and beverage selections for a one-of-a-kind and memorable wedding reception.
Here are some creative food ideas for your bohemian wedding:
Potluck: Ask guests to bring a dish to share, creating a fun and communal atmosphere.

Food Trucks and Street Carts: These mobile options can add a unique touch and offer a variety of cuisines.

Bowl Food: Serve small portions of favorite dishes in bowls for guests to enjoy while mingling and standing.

Table Picnics: Set up low tables and cushions for guests to sit and enjoy a picnic-style meal.
---
BOHO WEDDING CAKE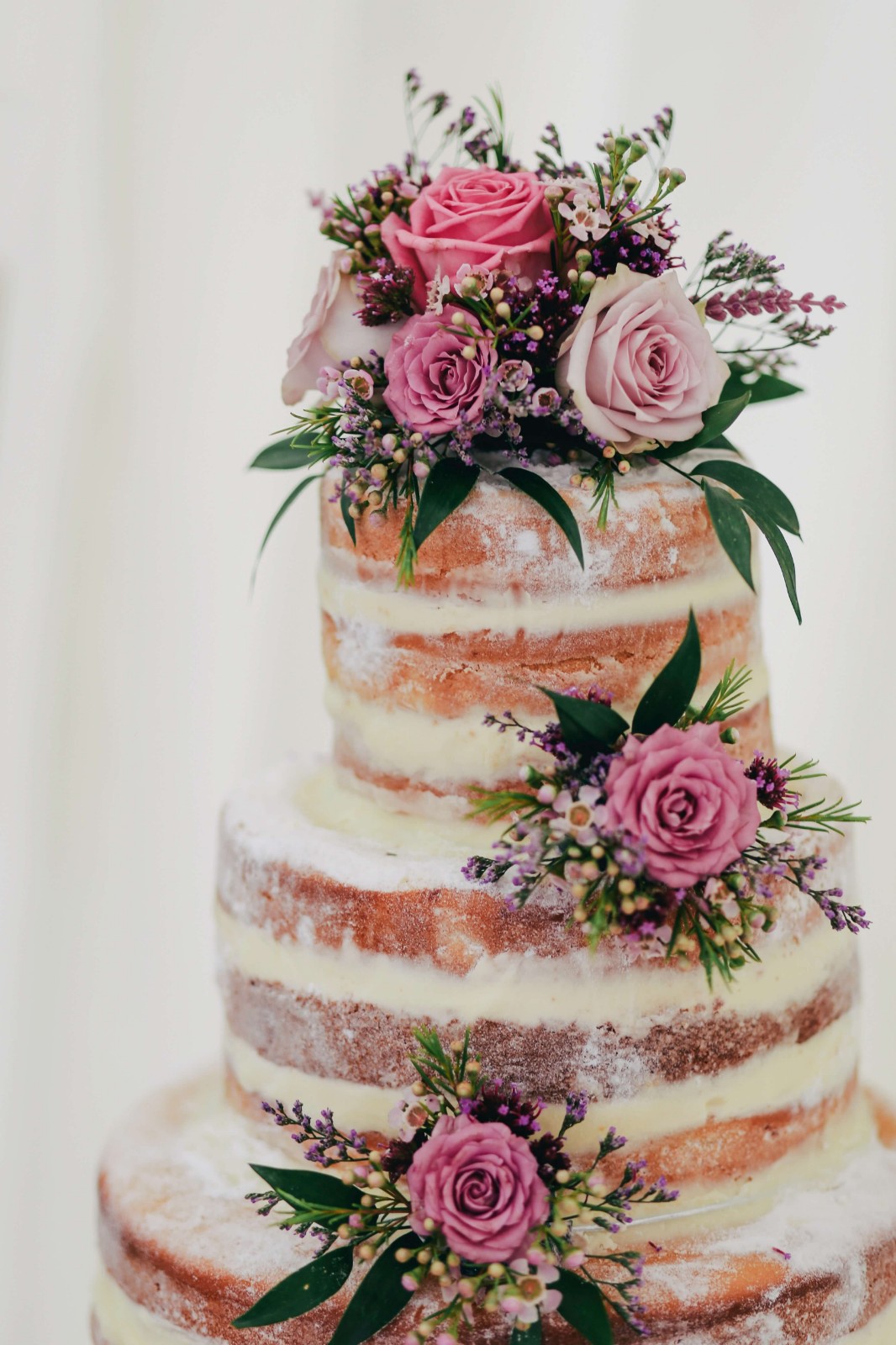 If you're looking for boho wedding cake inspiration, there are a lot of unique and beautiful options to choose from. Here are a few ideas to get you started.
Naked cake with fresh flowers:

A simple, rustic naked cake decorated with fresh flowers in soft, muted colors is a classic boho wedding cake choice.

Buttercream flower cake:

A cake covered in buttercream frosting with flowers piped on top is a stunning and unique option that can be customized to fit your wedding color scheme.

Macrame-inspired cake:

Incorporate macrame-inspired details into your cake design with textured fondant and delicate sugar flowers.

Geode cake:

A geode cake, which features edible crystals made from rock candy, is a perfect choice for a bohemian wedding with a touch of glam.

Tiered cake with gold leaf accents:

A tiered cake with gold leaf accents and delicate sugar flowers is an elegant and timeless choice for a boho wedding.
Remember, if you don't want a traditional wedding cake, there are plenty of other fun and unique dessert options to choose from. Cupcakes, cake pops, donuts, cookies, and macaroons can all be beautifully displayed and decorated to fit your bohemian wedding theme. And of course, it's better to have a smaller cake that's made with high-quality ingredients and beautifully decorated than a larger cake that's made with lower-quality ingredients and doesn't look as nice. A single-tier cake can still be just as stunning and impressive as a multi-layered cake, especially if it's decorated with intricate details like fresh flowers, edible gold leaf, or textured buttercream. And if you want to serve more guests, you can always supplement the cake with other dessert options like cupcakes or cookies.
---
BOHO WEDDING FAVORS
These are all great boho wedding favor ideas! Here are some more ideas to consider.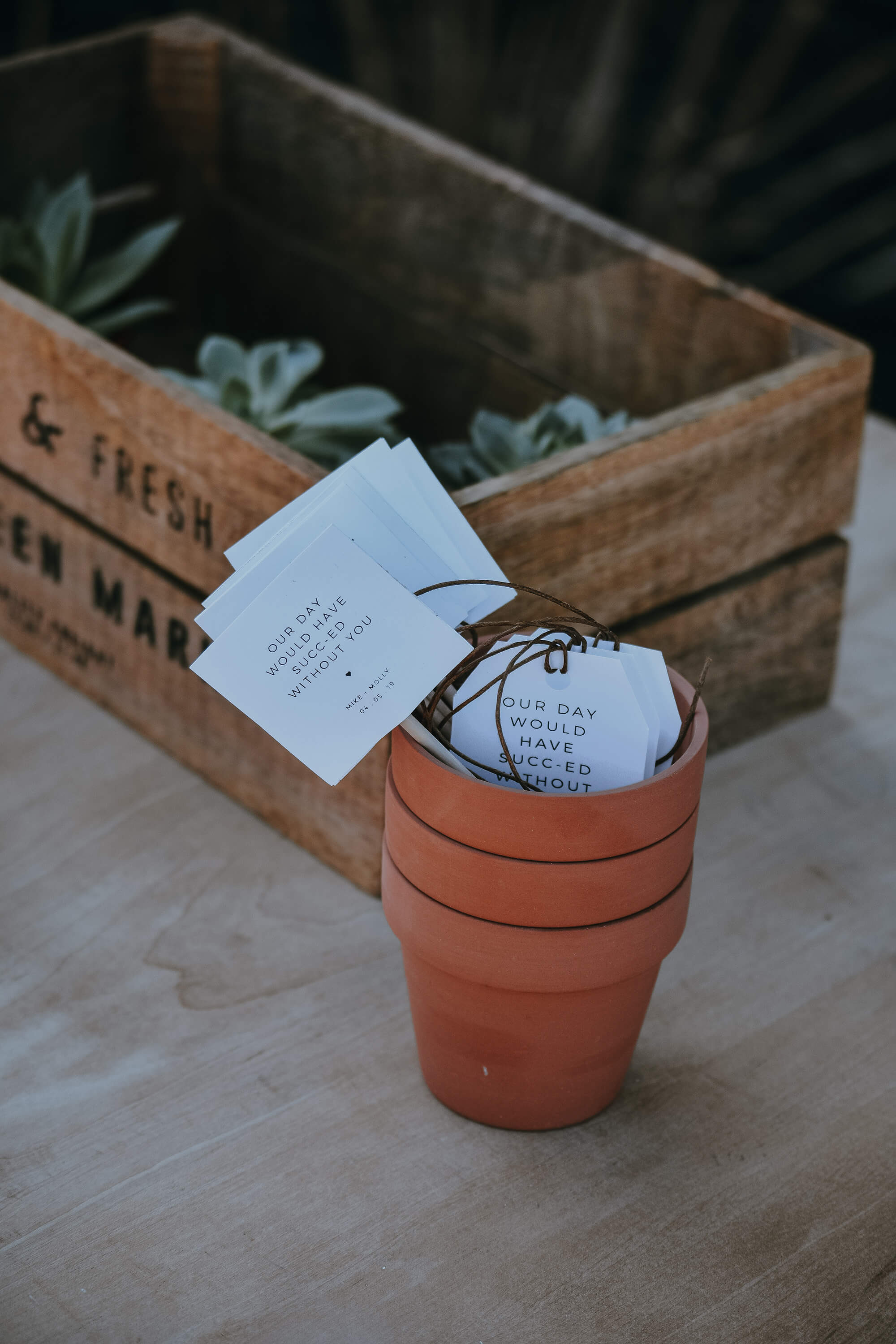 Wildflower seeds:

Encourage your guests to plant their own wildflower garden with a packet of seeds. This is a great eco-friendly option that also doubles as a sweet reminder of your wedding day.

Succulents:

Give your guests a small potted succulent to take home as a wedding favor. Succulents are low-maintenance plants that will last long after the wedding day.

Customized matchboxes:

Design personalized matchboxes with your wedding date, name, or a special message. This is a practical and affordable favor that guests can use at home.

Handmade soap:

Make your own soap in a scent that matches your wedding theme, and package it in a cute muslin bag with a personalized label.

Customized tote bags:

Design a custom tote bag for your guests to take home, with your name, wedding dates, or a fun quote.
Remember, the most important thing is to choose wedding favors that are meaningful to you and your partner, and that your guests will appreciate.
---
BOHO WEDDING DRESSES
Here are some tips to help you find the perfect boho wedding dress for your big day:
Consider the silhouette:

Boho wedding dresses can range from flowy and loose to fitted and structured. Think about what style will flatter your body type and make you feel comfortable and confident on your wedding day.

Look for natural fabrics:

Bohemian style is all about natural and organic materials, so look for dresses made from silk, cotton, or linen. These fabrics will feel light and breathable, perfect for an outdoor or beach wedding.

Focus on the details:

Boho wedding dresses often feature unique and intricate details like embroidery, lace, fringe, and beading. Look for a dress with details that reflect your personal style and make you feel special.

Don't be afraid to mix and match:

Boho style is all about mixing and matching different textures and patterns. Consider pairing a lace bodice with a flowing chiffon skirt, or adding a crochet shawl to your wedding day look.

Embrace color:

While white is still a popular choice for wedding dresses, boho brides may also opt for dresses in shades of ivory, blush, or even bold colors like red or blue. Choose a color that speaks to you and complements your skin tone.
Inspired by the styles below: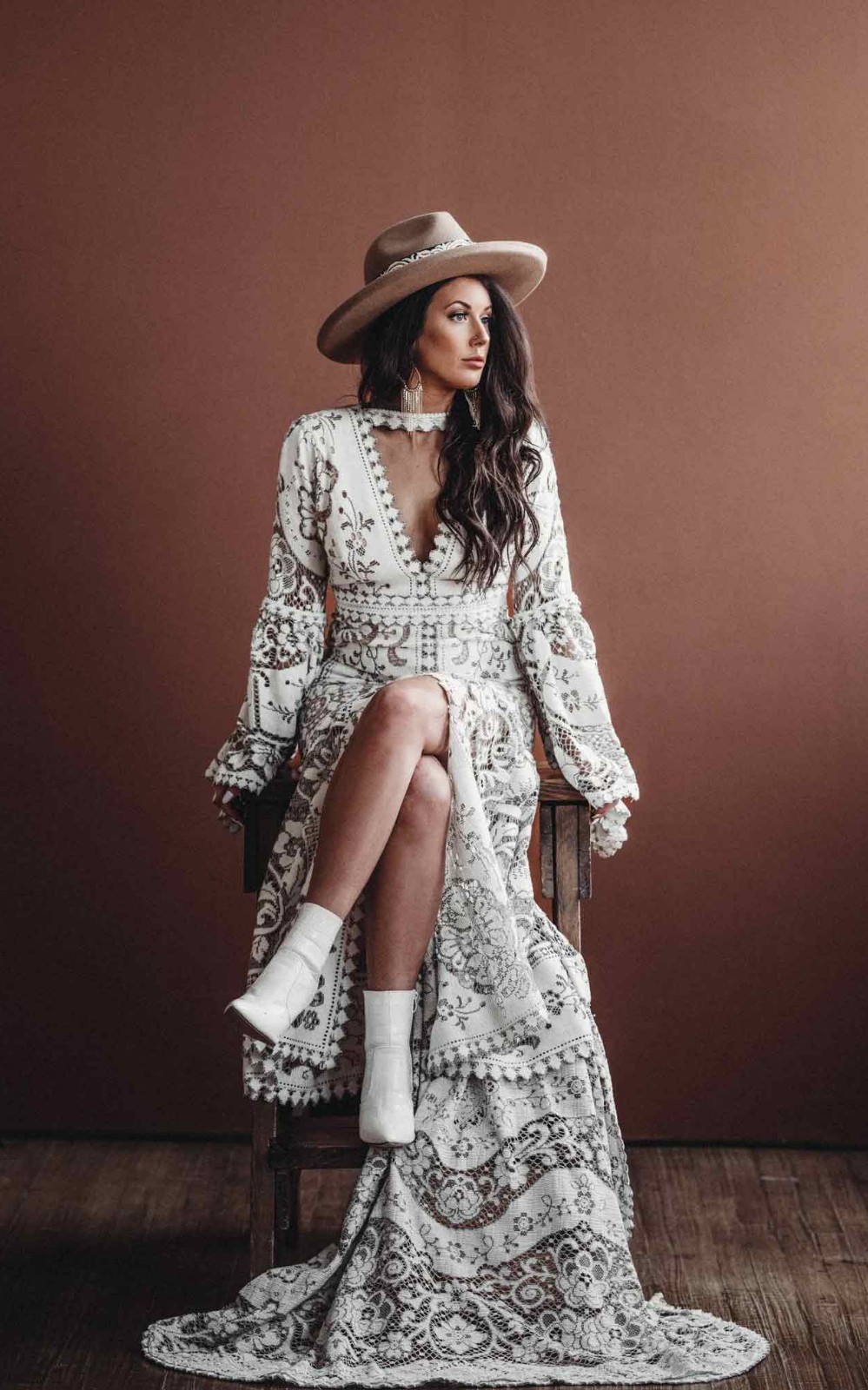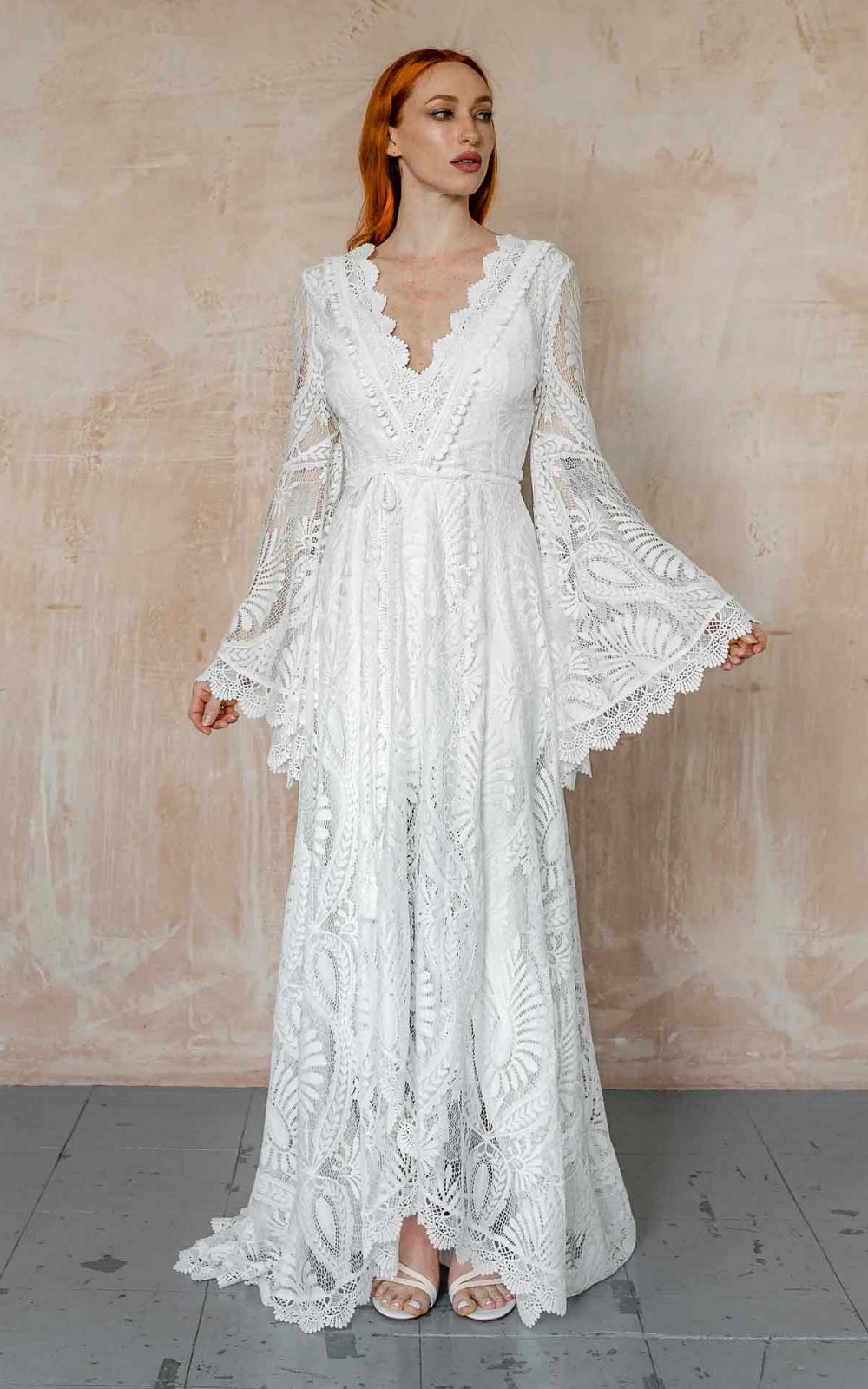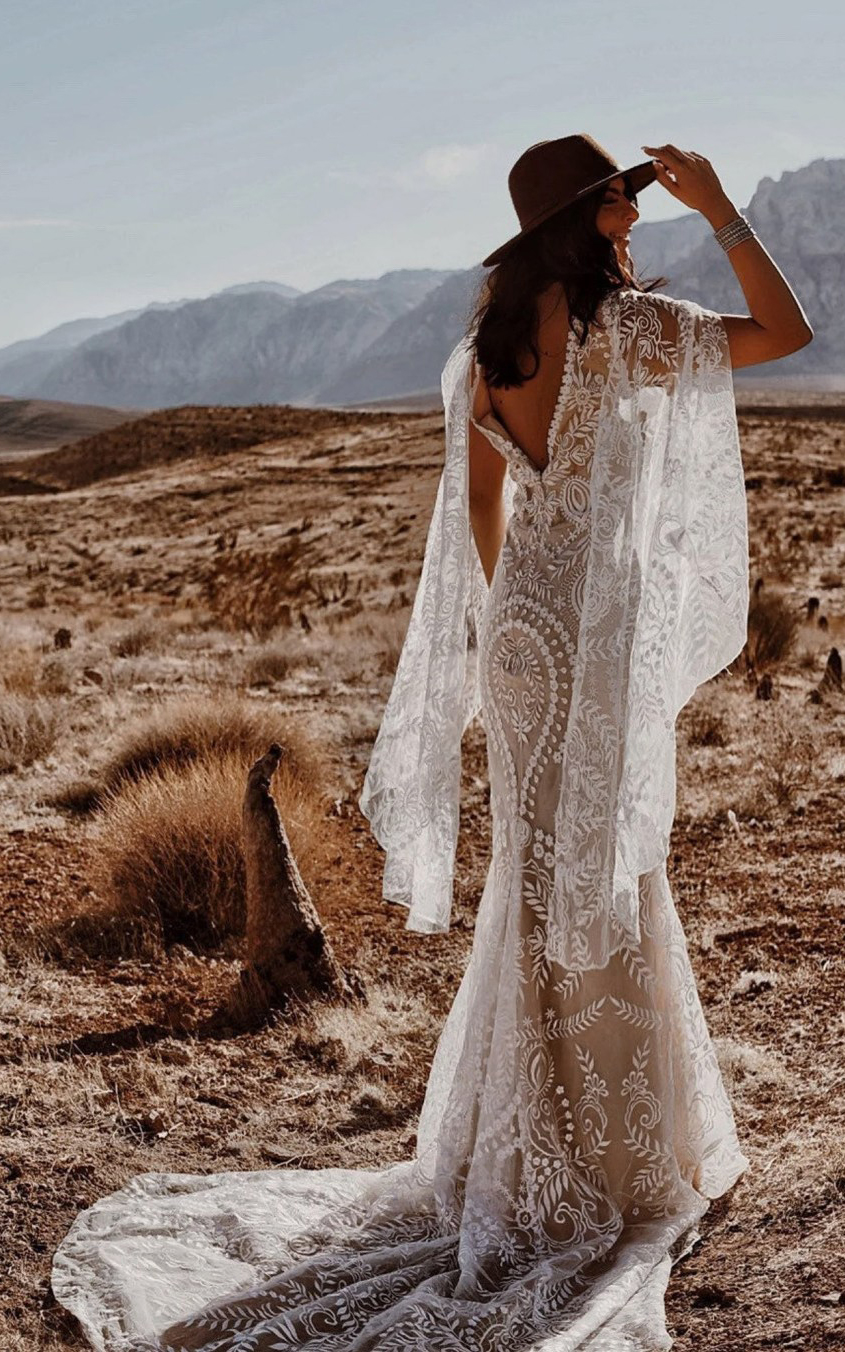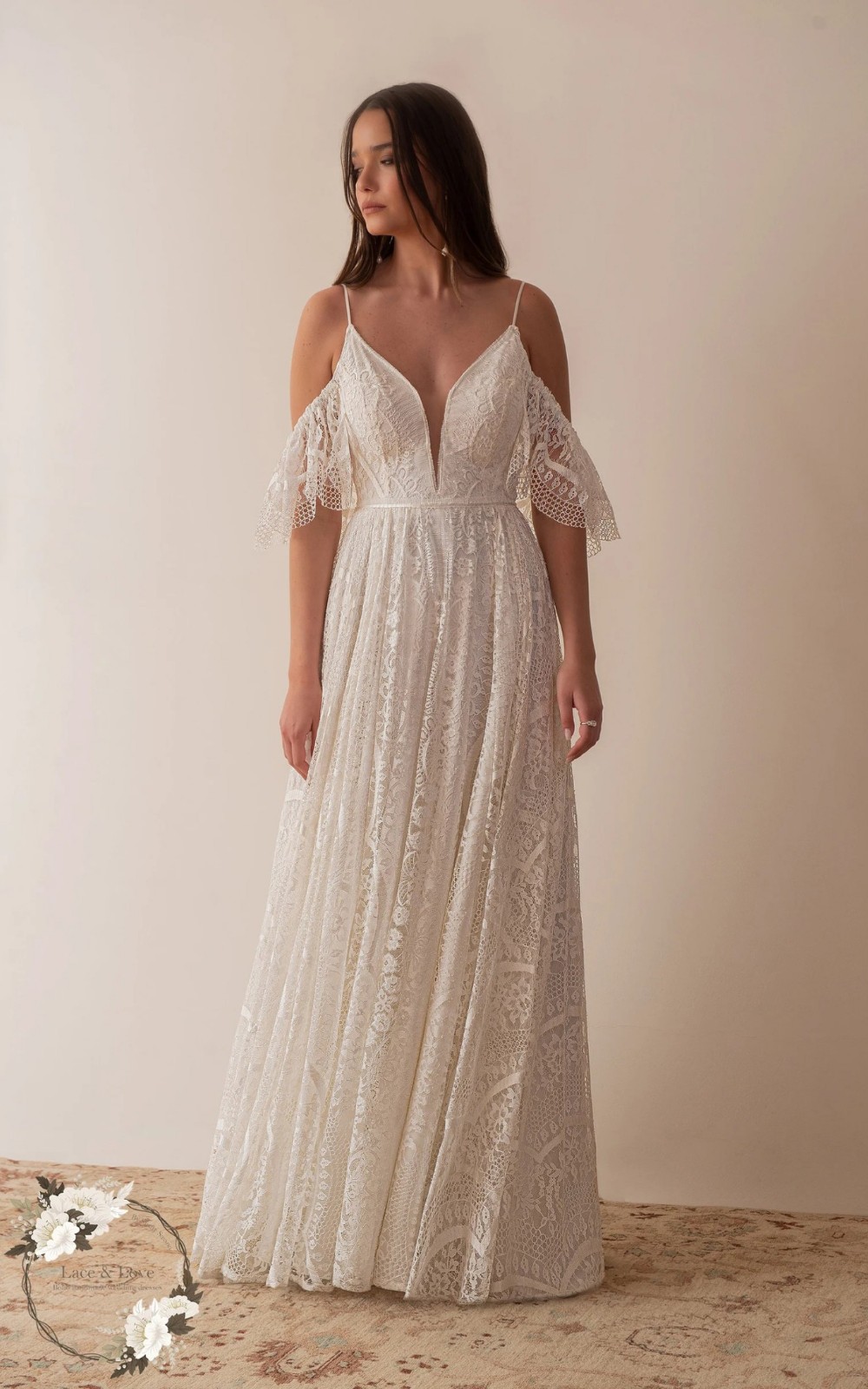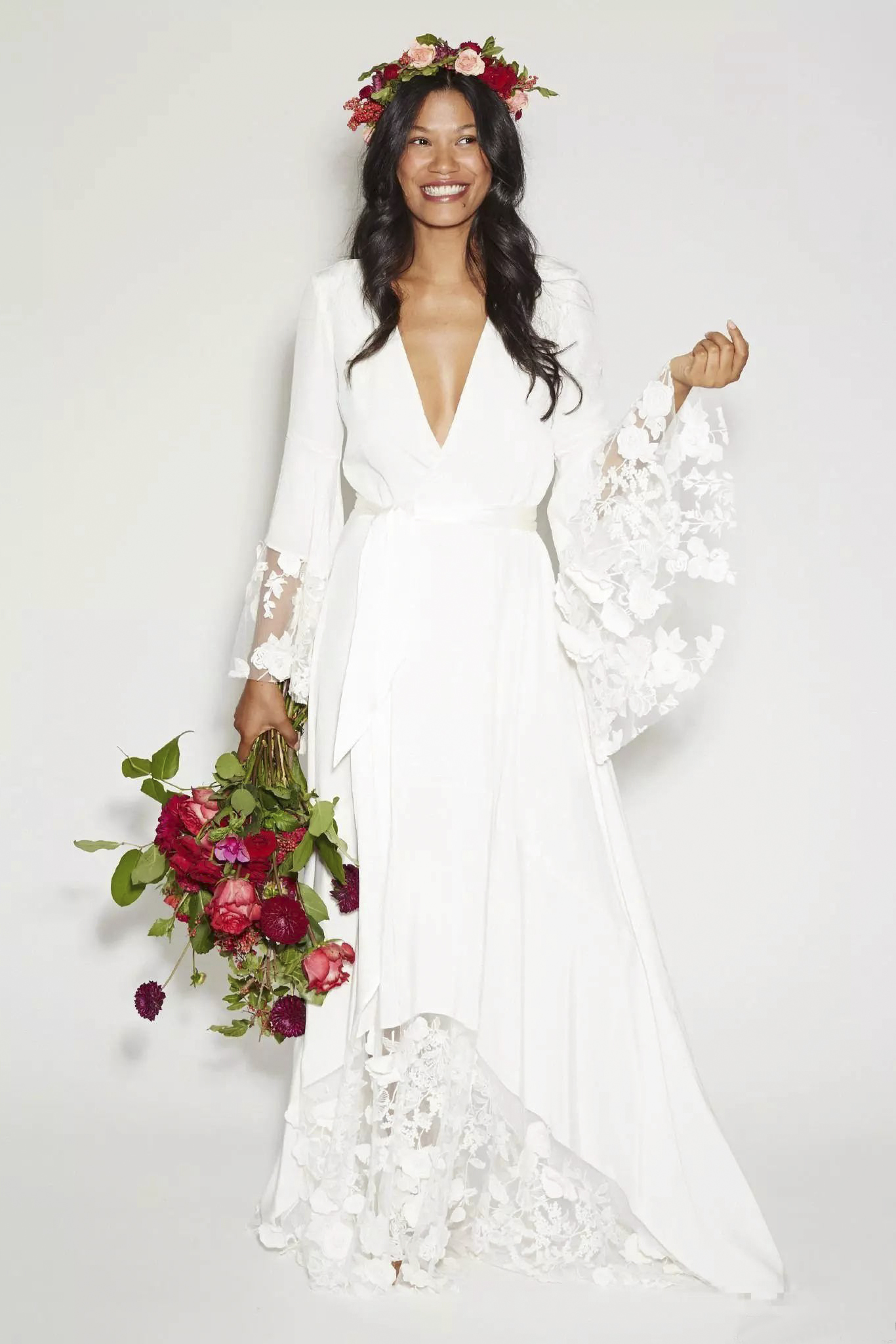 2. Bibiluxe
3. floraandlane
4. BHLDN Odalis Cape-Sleeve Deep-V Lace Wedding Gown
6. EllenBridals: A-Line Plunging Neckline Long Sleeve Floor-length Bohemian Wedding Dress #7000003
There are countless beautiful options for bohemian wedding looks to choose from! Don't be afraid to experiment and try on different styles until you find the one that feels perfect for you. We're excited to see how stunning you'll look on your special day!
---
BOHO WEDDING: SHOES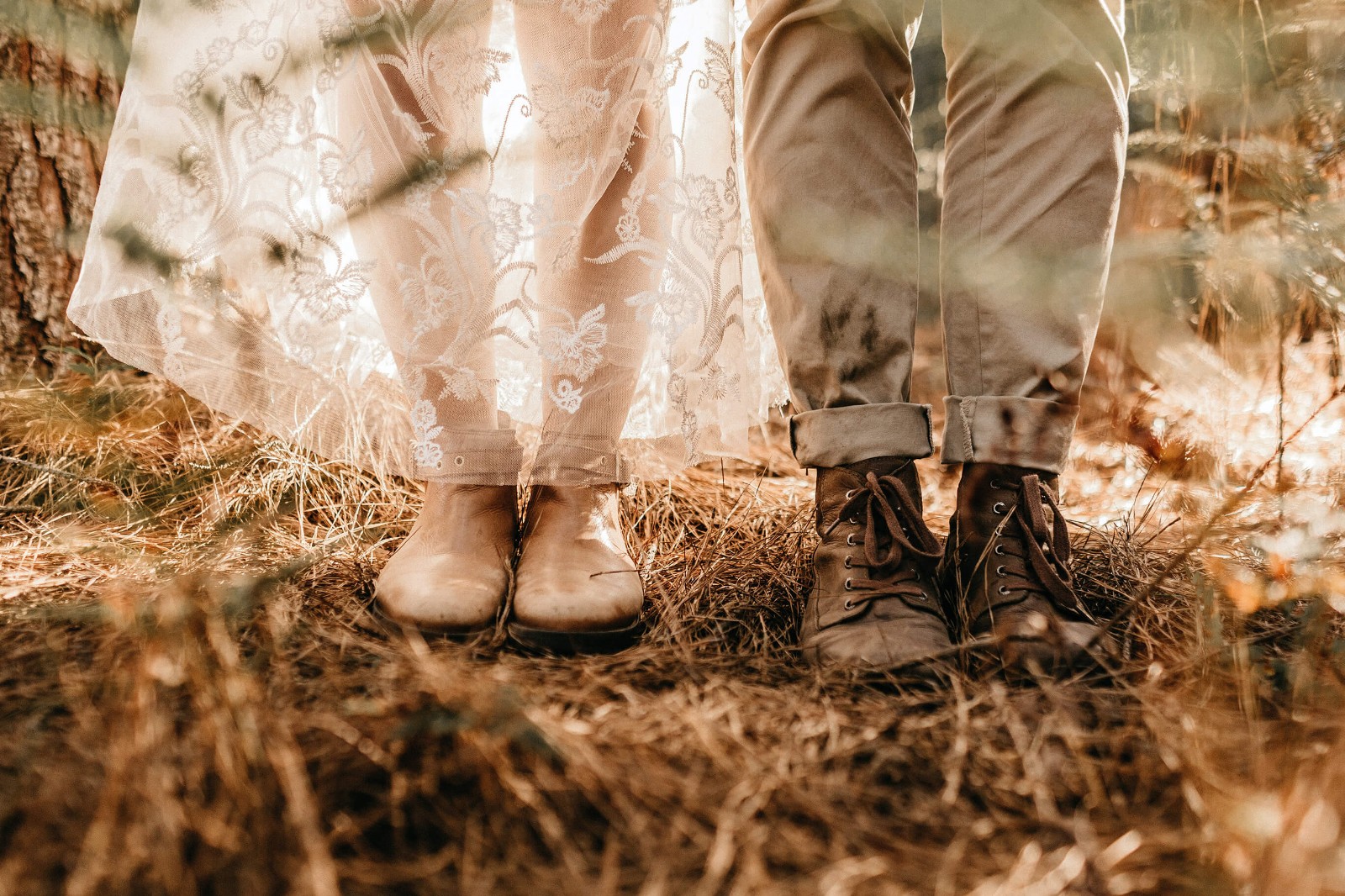 Once you've chosen your dress, it's time to start thinking about the finishing touches to complete your look - shoes, and accessories! Picking the right pair of shoes is crucial to ensure a smooth and unforgettable walk down the aisle. Fortunately, with an endless array of styles, colors, and textures, you have plenty of options to choose from for your boho wedding. The beauty of bohemian weddings is that you can wear whatever you like - literally, anything goes!
Whether you opt for wedding heels, bridal boots, comfy sneakers, or sparkling sandals, boho wedding shoes will enhance any bridal look. The best part? You don't have to limit yourself to just one pair. It's your wedding day, after all! You can wear as many pairs of wedding shoes as you want. For instance, you can wear a pair of elegant white heels for the ceremony and then switch to something more comfortable for the reception and dancing.
If you're looking for the perfect shoes to complete your boho wedding look, there are plenty of options to choose from. White or ivory heels are a classic choice, while nude platform sandals offer a comfortable and stylish alternative. For a more natural look, consider brown vegan or faux leather shoes, or go for patterned wedges with an open toe. If you want to add some edge to your look, try floral wedding boots or boho booties with fringe on the sides. Pastel flats or gladiator-style sandals are also great options. If you want to feel even closer to nature, consider going barefoot and adding rhinestone, ribbon, bow, or lace ankle bracelets to your look. For a touch of romance and magic, you can add flowers and greenery around your ankles. Whatever you choose, make sure it reflects your unique bohemian style and makes you feel comfortable and confident on your special day.
---
BOHO ACCESSORIES
Accessories are essential to complete your wedding look, not just create it. They can enhance and elevate your style from the ceremony to the reception, leaving a lasting impression. The beauty of the bohemian wedding style is that it is individual and personal, with a range of options available, from floral crowns and tiaras to delicate lace arm cuffs and personalized jackets. Bohemian jewelry often features natural-inspired, romantic, and ethereal elements with earthy textures and tones.
However, it's important not to go overboard with accessories. Select a few key pieces that complement your wedding look instead of overwhelming it. These whimsical and delicate pieces will be cherished mementos for years to come.
For bohemian brides seeking alternatives to flower crowns, options include feathers, leaves, hair vines, and accessories adorned with blossoms, rhinestones, and geodes. Sometimes, simple accessories can make the most significant impact.
There are numerous options to choose from when it comes to boho wedding accessories. Some favorites include arm and shoulder jewelry, statement earrings with bold colors and unique designs, bohemian hats in white, tan, black, or brown, bridal tiaras with geodes, pearls, crystals, and rhinestones, and vintage or personalized jackets.
Remember, on your wedding day, wear what makes you feel the most confident and divine!
---
BOHO VEIL
Remember that your wedding veil is a personal choice, and you should wear what makes you feel the most beautiful and confident on your special day. Don't be afraid to experiment with different styles and textures to find the perfect bohemian veil to complement your wedding dress and complete your dreamy boho bridal look.
And don't forget about the bohemian wedding veil! It can add a touch of ethereal beauty to your wedding look. Choosing the right bohemian veil may seem overwhelming, as they come in various shapes and sizes, from blusher veils to drape veils. However, it's essential to choose a veil that complements your boho wedding dress. A bohemian veil can contrast a minimal or whimsical wedding gown, depending on your style. Remember, choose your veil after you have selected your dress.
If you're not into traditional veils, you may opt for a lacework or macrame veil or a veil with bright colors. A wedding veil with floral or greenery embroidery can add a great addition to your whimsical wedding look. You can also wear a vintage veil that has been passed down through generations. Try on different styles, colors, patterns, and textures of veils with your wedding dress to determine the perfect match for your wedding day.
---
BOHO WEDDING BOUQUETS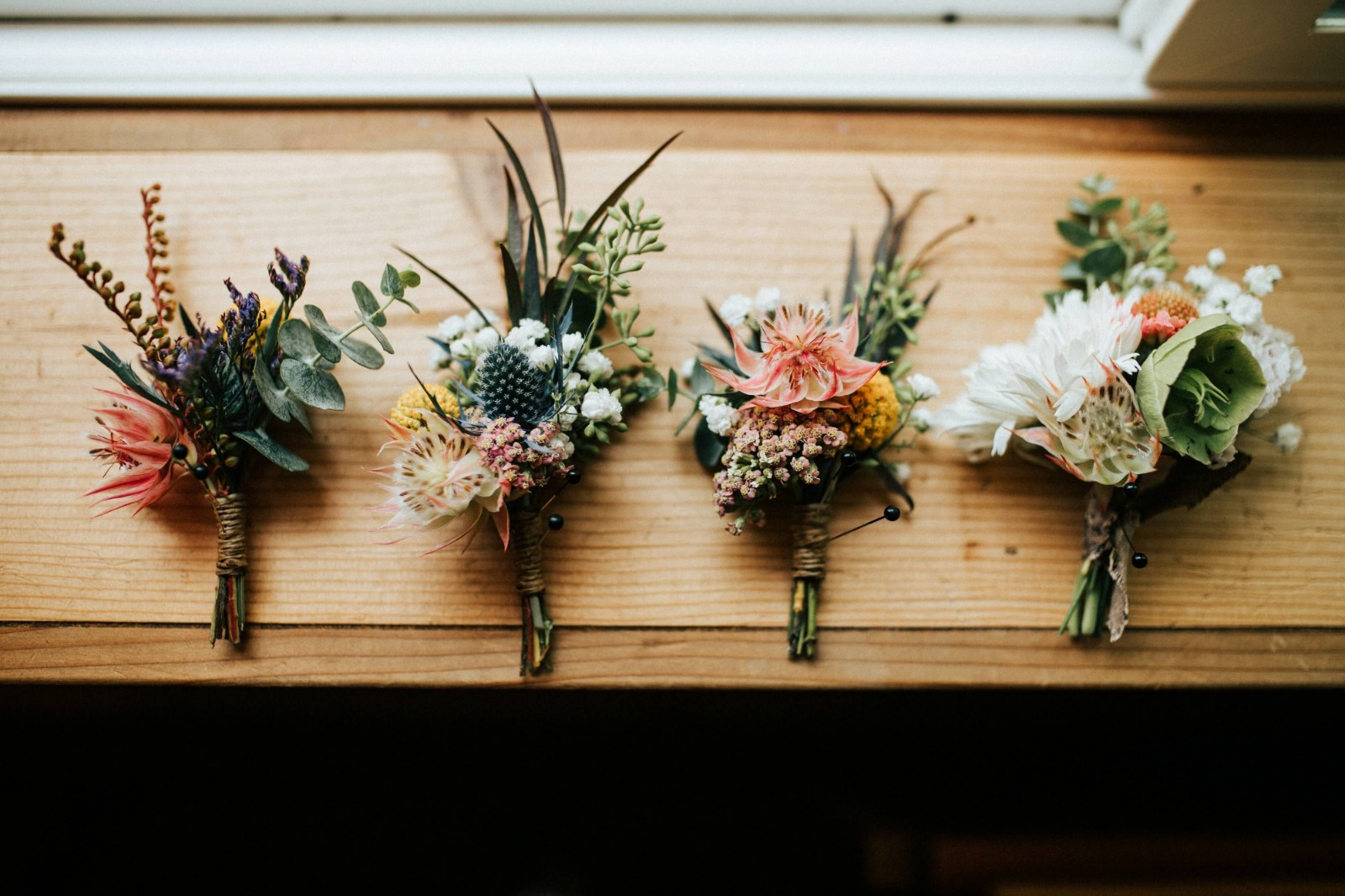 Not a fan of the traditional white and pink wedding bouquets? We get it! The Bohemian wedding style is all about romance, whimsy, and ethereal beauty, and that's exactly what boho wedding bouquets offer. With wild and vibrant flowers, lots of greenery, feathers, ferns, and vines, these bouquets are the perfect complement to your look. The textures, levels, and colors come together to create a unique wedding bouquet that expresses your personality and creativity.
The Boho theme celebrates artistic expression and freedom, and the wedding bouquet is no exception. These bouquets are mostly made from plants that can be easily found in gardens, forests, or woodlands, reflecting the connection to nature that's so important in this style.
Boho wedding bouquets are large, and bright, and often have irregular shapes, lines, and textures. From succulents, eucalyptus, and cascading greenery to feathers, dried flowers, and berries, pretty much anything goes when it comes to creating your perfect bohemian wedding bouquet.
If you prefer dried flowers, dried boho wedding bouquets are also a fantastic option. They're more cost-effective, and sustainable, and come in unique colors and shapes. You can even dye or spray them to match your boho wedding theme perfectly. From dried Pampas Grass and White Thistle to dried wildflowers, seed pods, and dried grasses, your options are endless!
---
Boho weddings are a beautiful and unique way to celebrate your love and commitment to your partner. From the dress to the decor, everything can be personalized to fit your individual style and taste. The key is to embrace nature-inspired elements, such as wildflowers, greenery, and earthy tones, to create an ethereal and whimsical atmosphere. Whether you opt for a traditional white wedding dress with a bohemian twist or choose a more unconventional dress with bold patterns and colors, there are endless possibilities to create your dream boho wedding. Don't forget to incorporate unique accessories and a stunning boho bouquet to complete your look.
Above all, remember to embrace your individuality and let your creativity shine through on your special day. It celebrates and incorporates all the beauty that nature has to offer.