Wedding Dress Trends 2023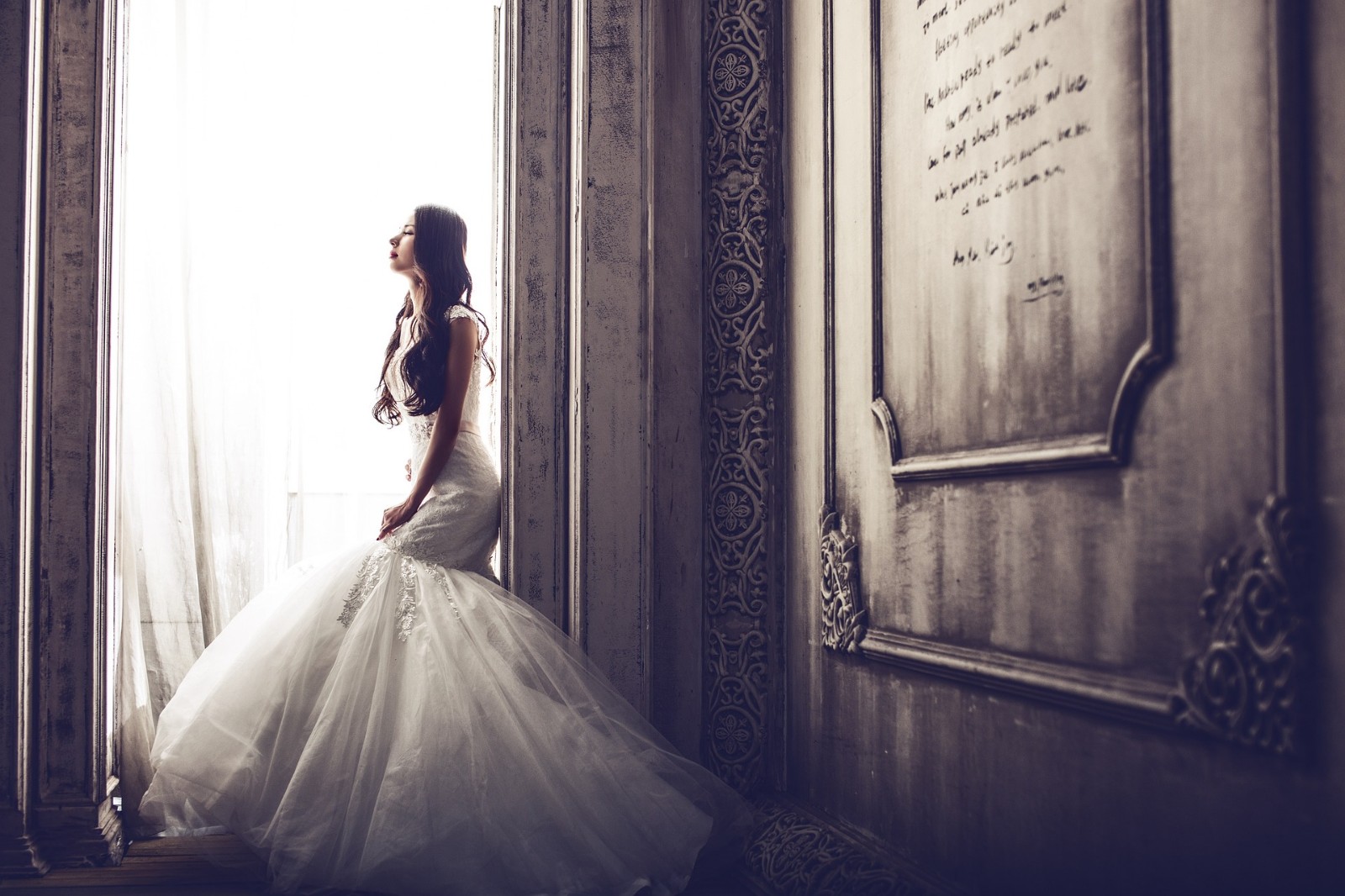 It is the year 2023! Brides-to-be are eagerly anticipating the latest wedding dress trends. From the runway to the bridal boutiques, designers are already showcasing their newest collections, giving us a glimpse into what's to come. Whether you're a fashion-forward bride or a traditionalist, there's something for everyone in the 2023 wedding dress trends.
From unique details to timeless silhouettes, these trends offer a range of styles that are sure to inspire any bride. In this article, we'll explore the top wedding dress trends for 2023 and provide insights on how to incorporate them into your big day. I am excited to share with you the latest trends in wedding dresses for 2023. Let's dive in!
---
STATEMENT SLEEVES
Sleeves are making a comeback in a big way. Brides are opting for statement sleeves that add drama and volume to their dresses. From billowy bishop sleeves to puffy balloon sleeves, there are endless options to choose from. These sleeves can be made with lace, tulle, or even feathers to add a touch of whimsy to the dress.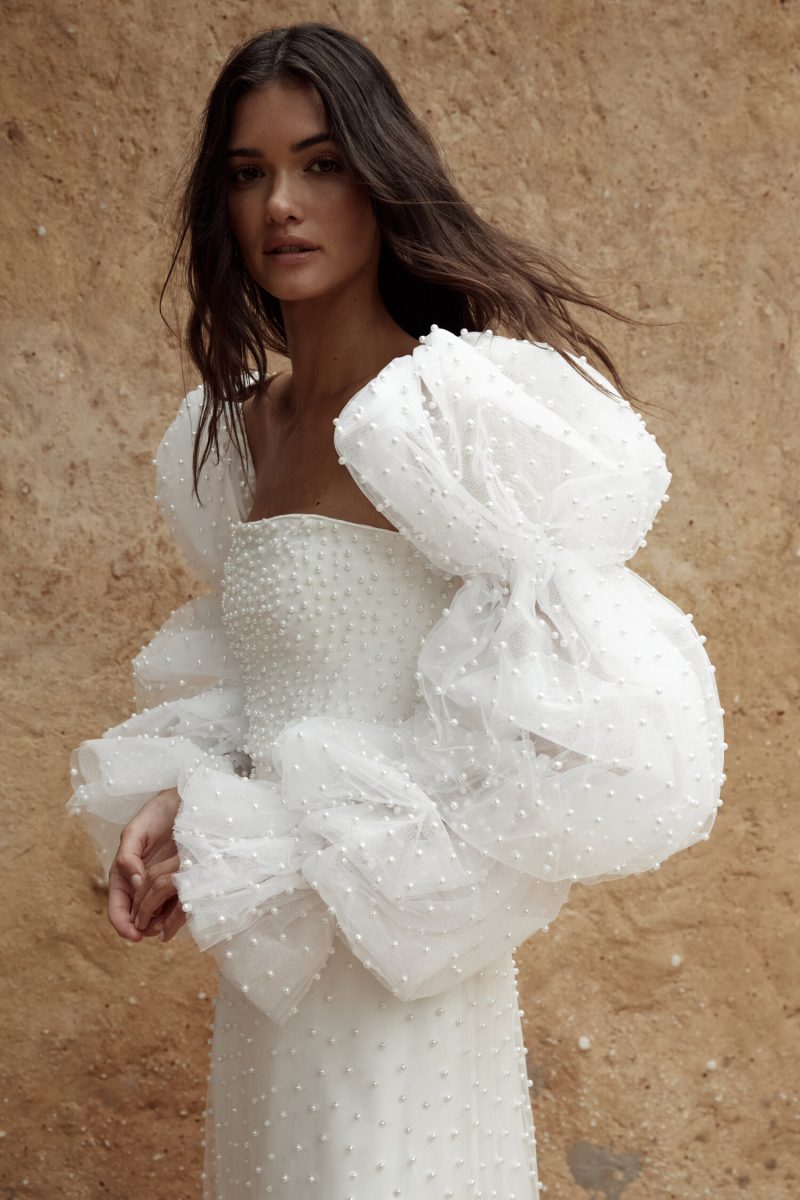 Christie Nicole – Eileen
---
SHEER LAYERS
Sheer fabrics are being used to create dreamy, romantic wedding dresses. These delicate layers add dimension and texture to the dress while still allowing the bride to show off her figure. Sheer fabrics can be used in the skirt, sleeves, or even as a layer over the entire dress.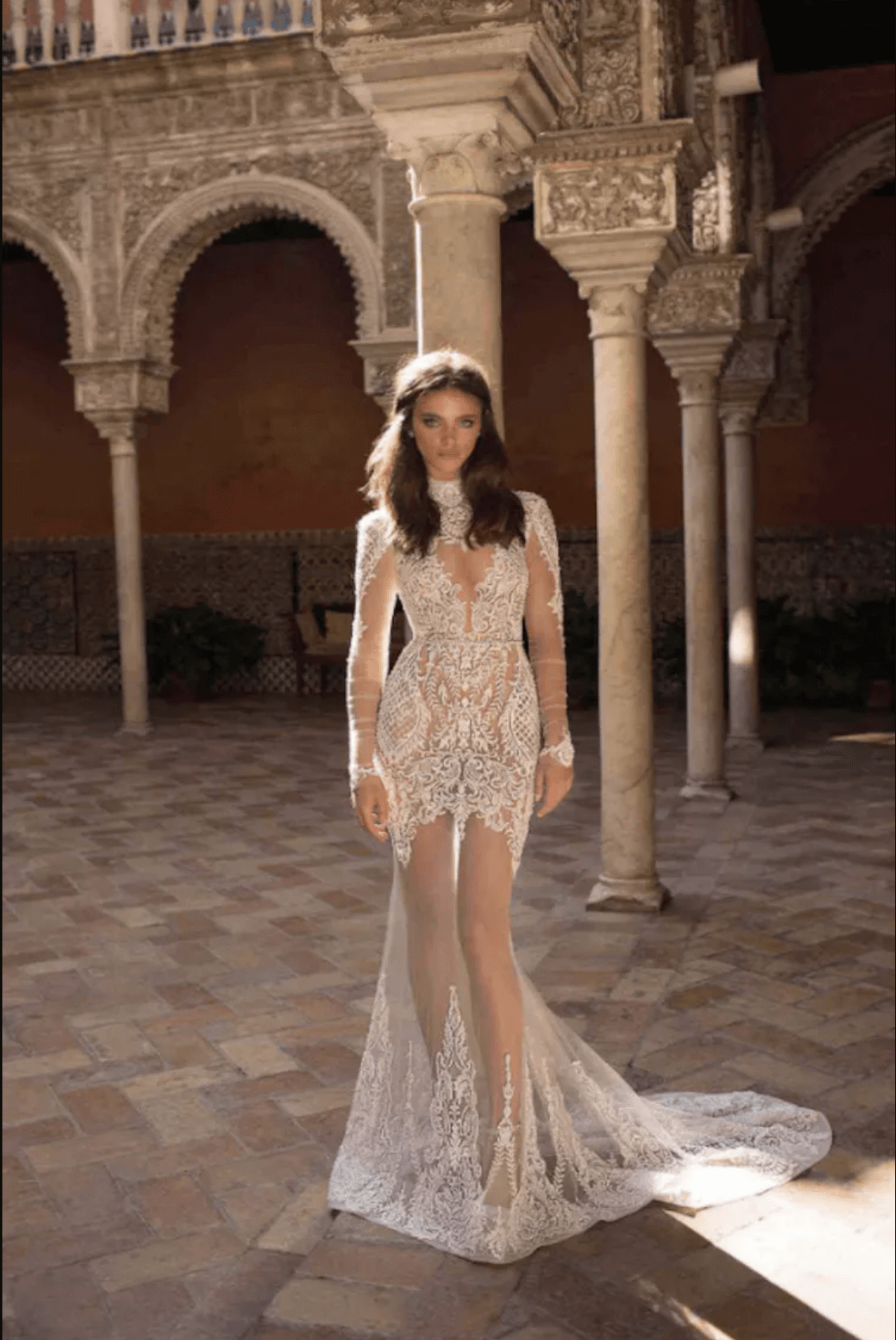 ---
FLORAL EMBELLISHMENTS

Floral embellishments are a popular trend in 2023 wedding dresses. Whether it's 3D floral appliques, embroidered flowers, or floral lace patterns, these details add a feminine and romantic touch to the dress. These floral details can be found all over the dress, from the bodice to the hemline.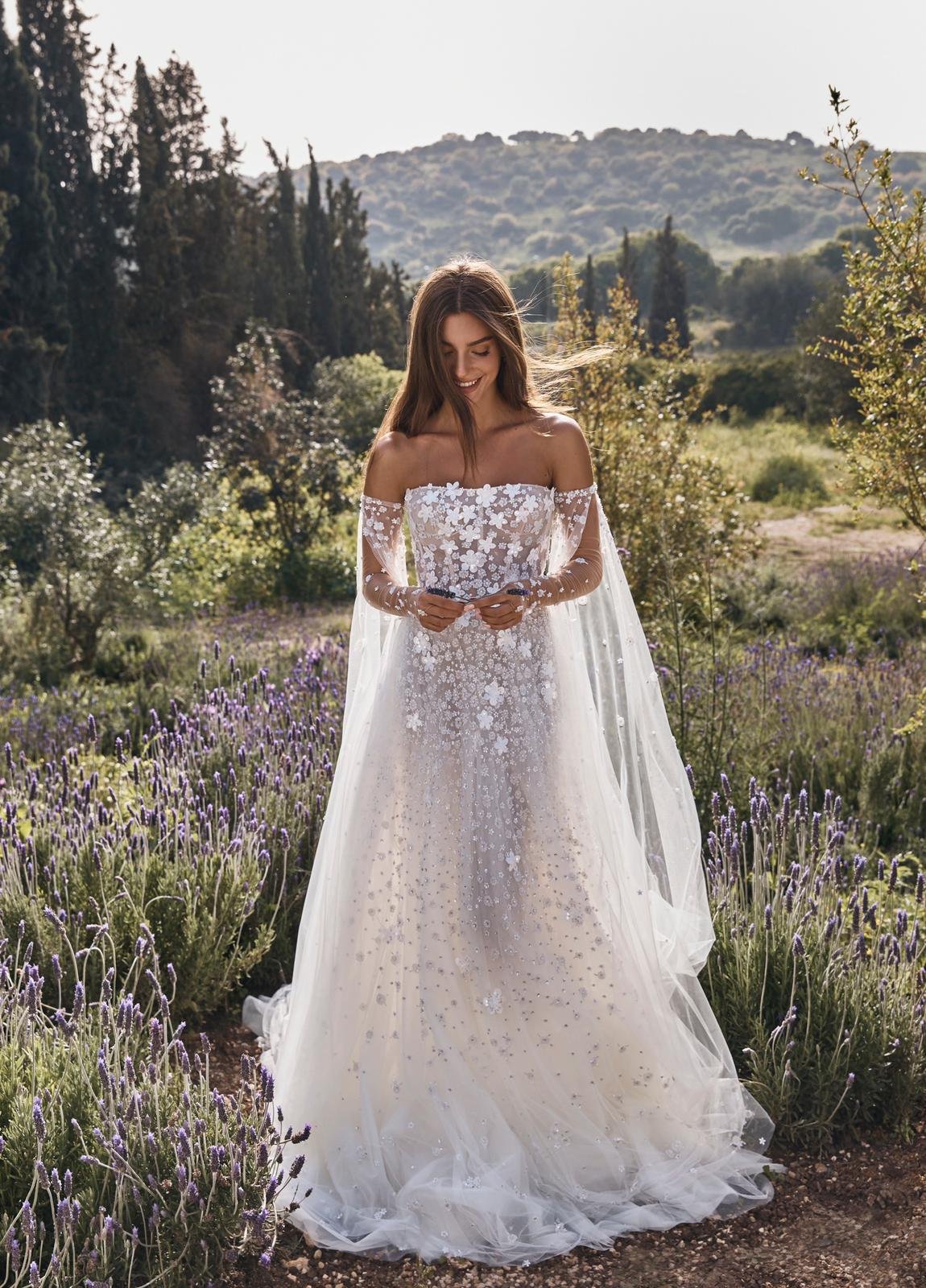 Spina Bride Lee Petra Grebenau
---
NON-TRADITIONAL COLORS

Brides are no longer limited to the traditional white wedding dress. In 2023, we are seeing brides opt for non-traditional colors such as blush, champagne, and even black. These colors add a modern and edgy twist to the classic wedding dress.
---
SIMPLISTIC STYLES

Minimalism is a trend that has been gaining popularity in recent years, and it has now made its way to the wedding dress world. Brides are opting for simple, streamlined dresses that highlight their natural beauty. These dresses often feature clean lines, minimal embellishments, and elegant silhouettes.
---
TWO-PIECE SETS

For brides who want a less traditional look, two-piece sets are a popular option. These sets feature a separate top and skirt, allowing brides to mix and match different styles and fabrics to create a unique look that reflects their personal style.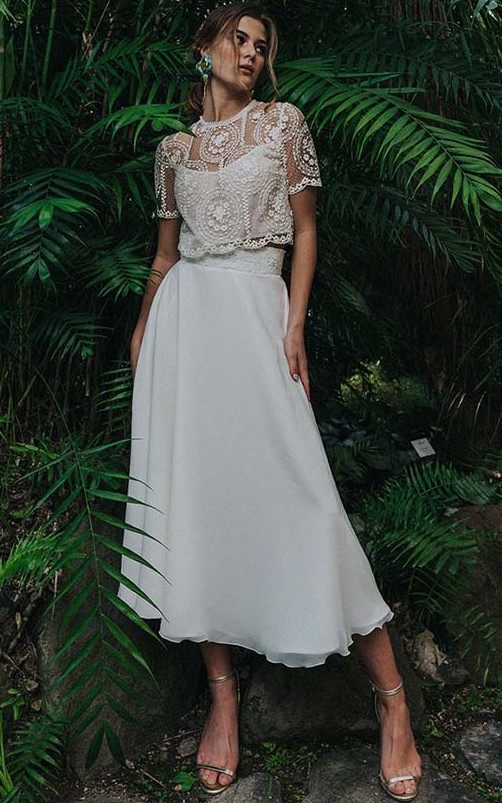 DressAfford Vintage Two Piece Short-sleeve Tea-length Chiffon Wedding Dress with Lace Top
---
HIGH NECKLINES

High necklines are a trend that is making a comeback in 2023. These elegant and sophisticated styles add a touch of vintage glamour to the dress. Whether it's a mock neck or a Victorian-inspired high collar, these necklines create a chic and refined look.
---
DRAMATIC TRAINS

Trains have always been a staple of wedding dresses, but in 2023, they're getting a dramatic upgrade. From cascading waterfall trains to voluminous tiered trains, these styles create a breathtaking effect as the bride walks down the aisle. These trains can be made with lace, tulle, or even feathers to add an extra element of drama.
---
JUMPSUITS

For brides who want a modern, edgy look, jumpsuits are a popular option. These one-piece outfits feature a pantsuit and a top, creating a sleek and sophisticated look. Jumpsuits can be made with luxurious fabrics such as silk or satin and can be paired with a statement belt or a sleek blazer to add some extra flair.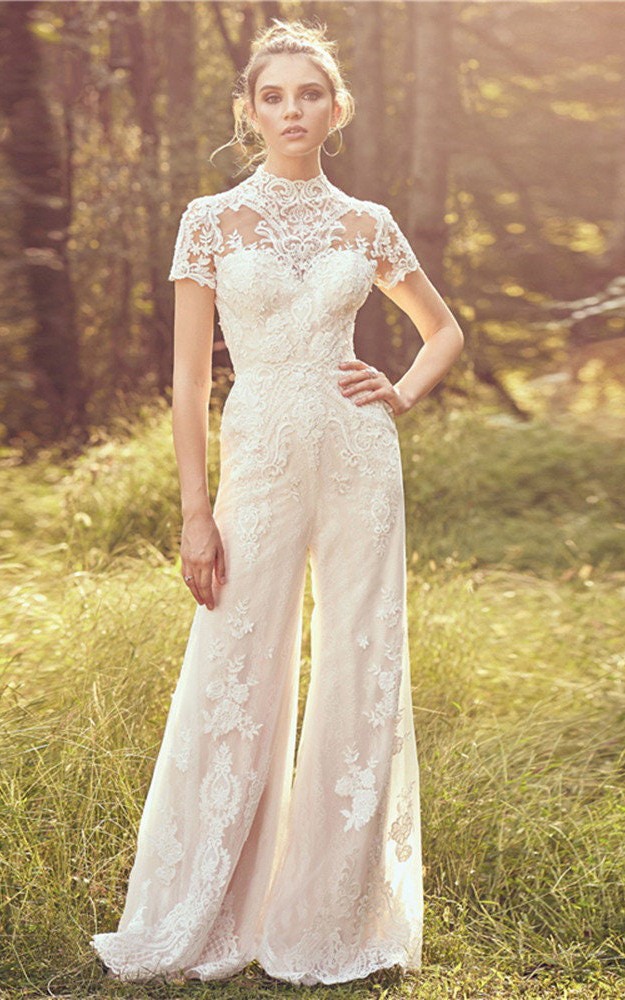 DRESSAFFORD Boho High Neck Cap Sleeve Empire Lace Wedding Pantsuit Jumpsuit
---
CUT-OUTS

Cut-out dresses are a daring trend that has been gaining popularity in recent years. These dresses feature strategically placed cut-outs, creating a peek-a-boo effect that adds an extra element of interest to the dress. Whether it's a small keyhole or a bold geometric cut-out, these dresses are sure to turn heads.
---
CAPES

Capes are a trend that has been growing in popularity in recent years, and they're set to become even more popular in 2023. These flowing garments add a regal and ethereal touch to the dress, and can be made with lace, tulle, or even a sheer fabric to add some extra drama. Capes can be worn as a standalone piece or paired with a matching dress.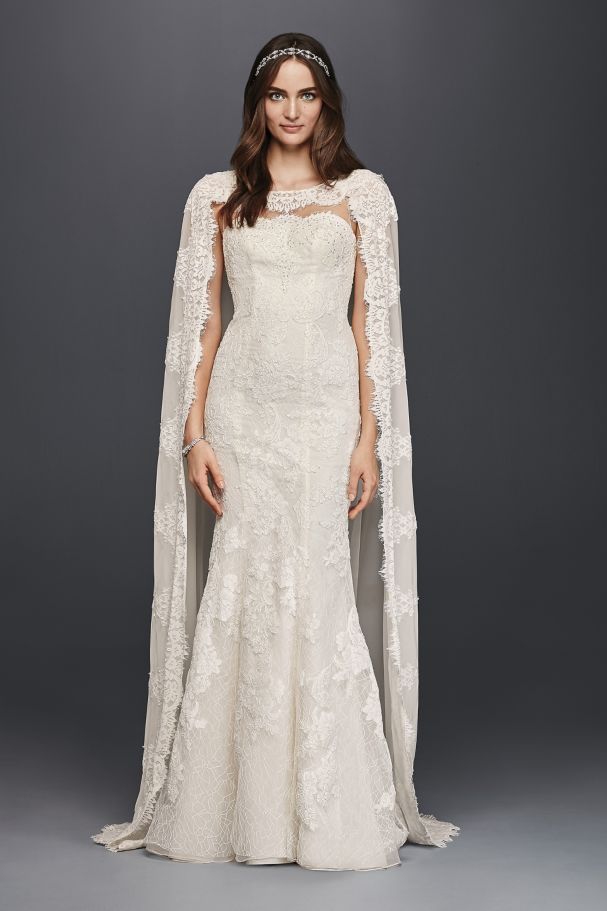 DAVIDS BRIDAL STYLE# CWG717
---
OFF-THE-SHOULDER

Off-the-shoulder dresses have been a trend for a while now, but in 2023, we're seeing a new twist on this classic style. Brides are opting for asymmetrical necklines that expose one shoulder, creating a modern and edgy look. These dresses can be made with a variety of fabrics, from structured satin to delicate chiffon.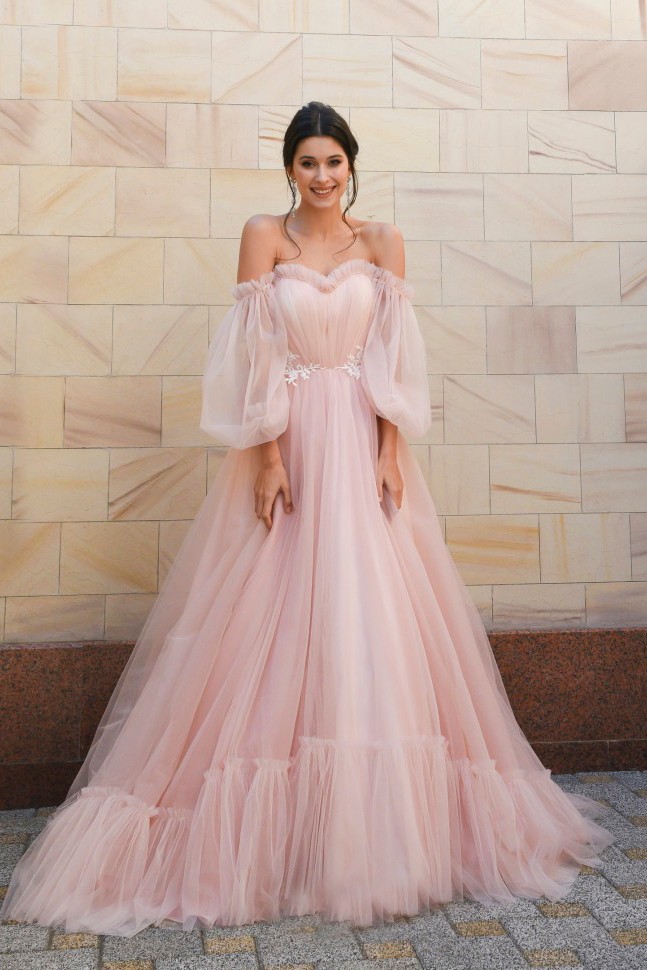 EllenBridal Ball Gown Off-the-shoulder 3/4 Length Sleeve Chapel Train Tulle Wedding Dress
---
SPARKLE AND SHINE

In 2023, sparkle and shine are taking center stage. Brides are opting for dresses that feature metallic embellishments, glittering sequins, and shimmering beading. These dresses catch the light and create a dazzling effect that's perfect for a glamorous wedding.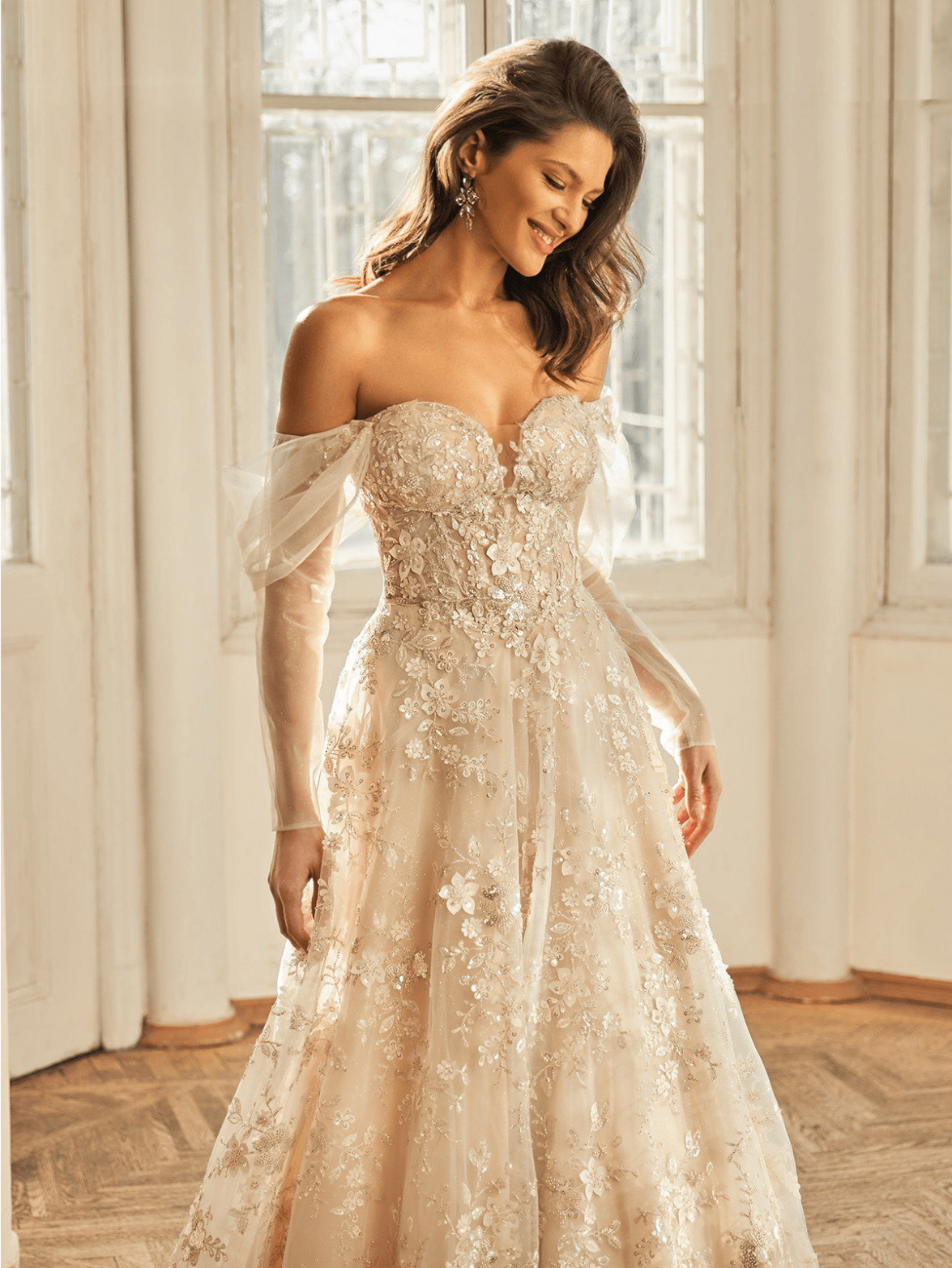 MOONLIGHT BRIDAL STYLE H1503
---
OVERSIZED BOWS

Oversized bows are a trend that's set to take the bridal world by storm in 2023. These bold statement pieces add a touch of drama to the dress and can be placed anywhere from the back to the front of the dress. Whether it's a sleek and minimal bow or an oversized, voluminous one, these bows are sure to make a statement.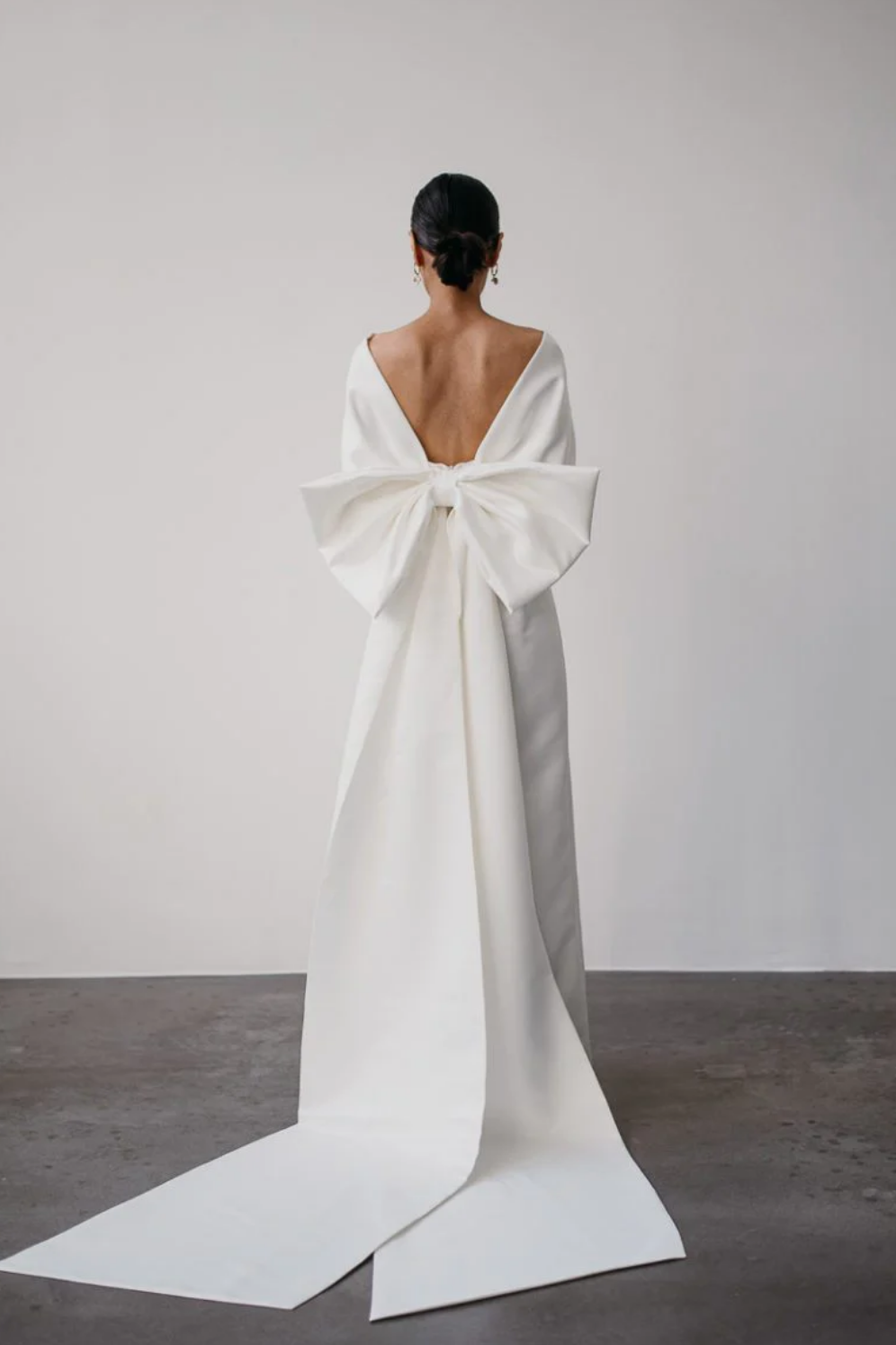 ZOE ROWYN ANGELA
---
VINTAGE-INSPIRED

Vintage-inspired dresses are a trend that never goes out of style. In 2023, we're seeing a resurgence of vintage styles, from 1920s-inspired flapper dresses to 1970s bohemian styles. These dresses feature classic silhouettes, intricate lace details, and romantic fabrics like chiffon and silk.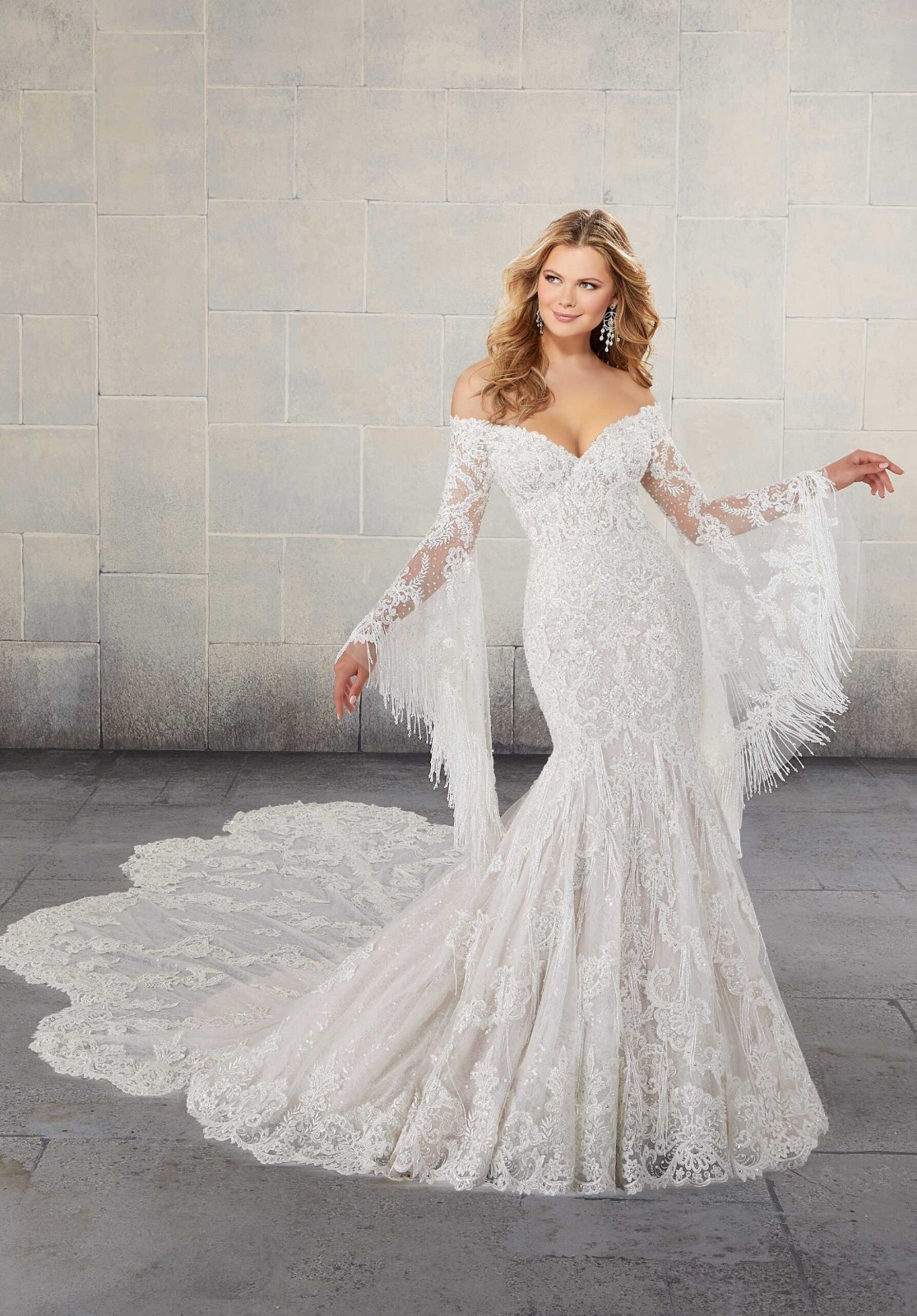 Mori Lee Santina Wedding Dress
---
In conclusion, these are the top wedding dress trends for 2023. Whether you prefer a modern and edgy look or a classic and timeless style, there is a trend that will suit your personality and taste. Remember, the most important thing is to choose a dress that makes you feel confident, beautiful, and comfortable on your special day.