How to shop proper wedding dresses for different body types?
In search of the perfect wedding dress to flatter your body type? Every woman's body is unique, which is why it's important to find a wedding dress that complements your particular shape. Women are fortunate to have a wide range of body types, which is why it's important for them to explore different types of wedding dresses. There is no universal definition for what a woman's body should look like, nor are we all created the same way. Some women have hourglass figures, others are more slender, while some are tall and some are petite. Wedding dress styles are just as diverse as women's bodies, and there isn't one type of dress that suits every body shape. This is especially true when you're shopping for your dream wedding dress, as there are numerous wedding dress styles to choose from.
When shopping for the perfect wedding dress in local shops, you typically have a limited amount of time per appointment, often only one hour. During this time, you must navigate the expert advice of your trusted bridal consultant, the opinions of your small entourage, and the selection of stunning wedding gowns from various designers. To ensure a more enjoyable experience and reduce the stress of trying on dresses, it's essential to determine your body shape before your appointment. This preparation will help you select the most flattering gowns for your figure. Ultimately, shopping for your wedding dress is one of the most thrilling aspects of wedding planning. To assist you in this process, we've compiled a list of the best wedding dress styles for different body types!
HOURGLASS
If your waist is small and your shoulders and hips are proportionate, you have an "hourglass" body shape. This shape can carry off a variety of styles, but if you want to highlight your curvy silhouette, a mermaid dress like Ellenbridals #7000002 would be a perfect choice.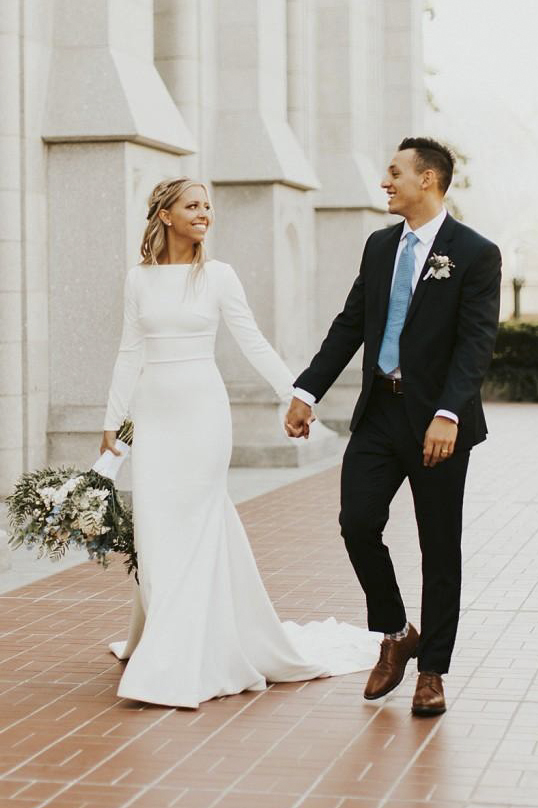 INVERTED TRIANGLE
To balance the proportions of women with an inverted triangle body shape, it's important to downplay their broad shoulder line and add emphasis to their lower half while defining the bust and waist. This can be achieved by choosing dresses that accentuate the waistline and provide more definition to the silhouette.
For brides with a similar width of bust, waist, and shoulders, we recommend an A-line dress that highlights the waistline. To further define the waist, a stunning beaded belt can be added. Additionally, a V-neck can create the illusion of an inverted triangle on the torso.
A great example of an A-line dress for this body type is the Allure style 9966, Look for similar dresses that emphasize the waist and define the silhouette to create a more balanced look.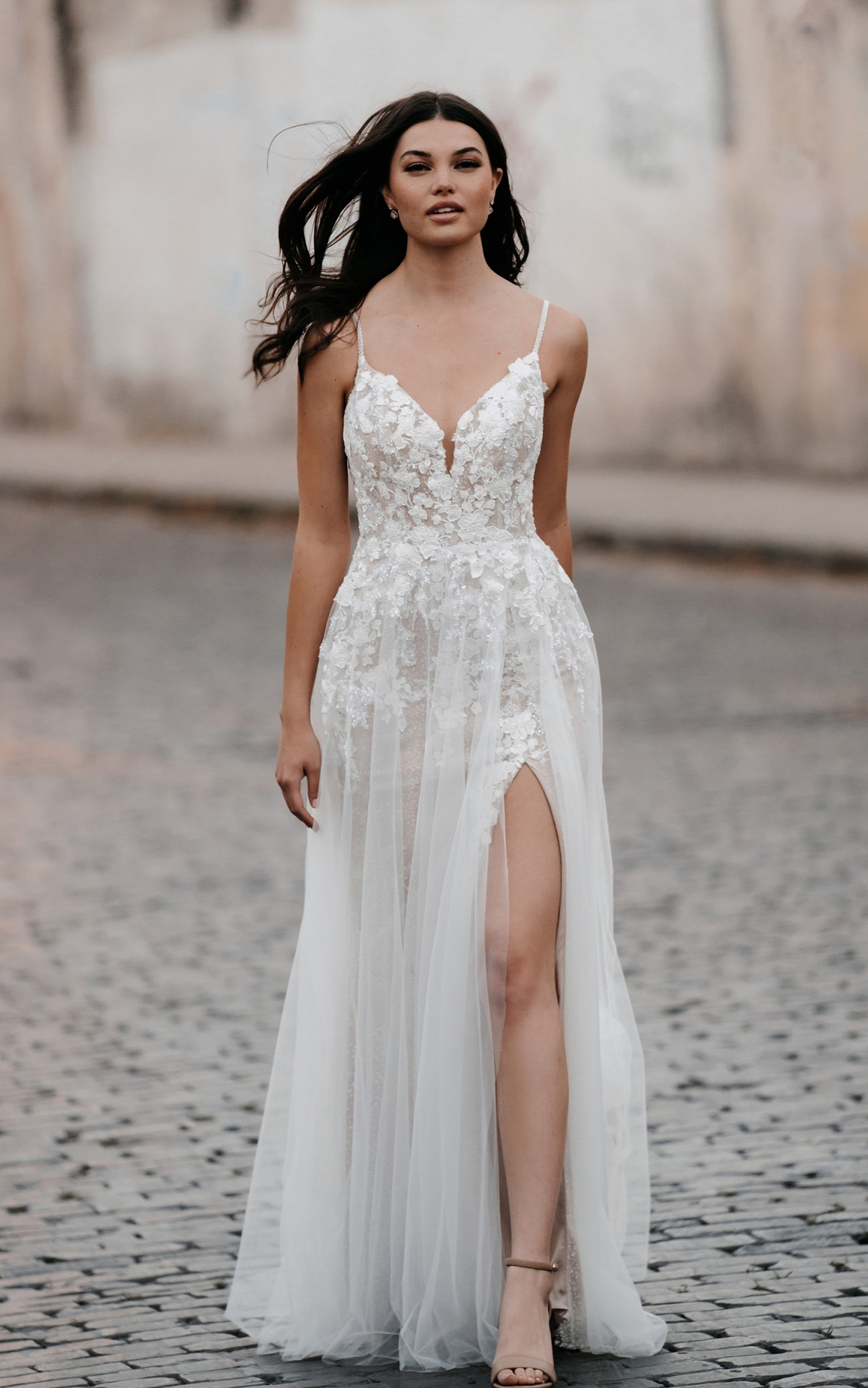 RECTANGLE OR STRAIGHT
If you have a similar measurement for your bust, waist, and hips, you'll want to choose a wedding dress that enhances your curves and creates the appearance of an hourglass figure with a well-defined waistline. A dress style like EB#7000007 would be perfect for achieving this look. While there are many types of wedding dresses available for rectangle shapes, we're off to a good start, so let's keep going.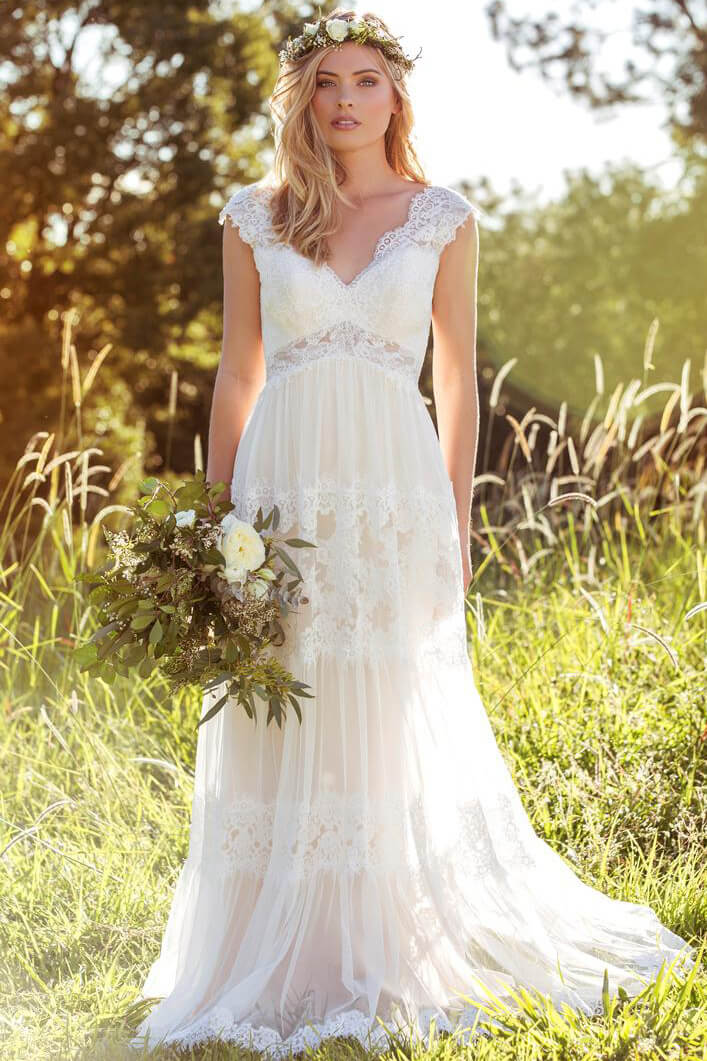 APPLE OR ROUND
The circular or round body shape, commonly known as the apple shape, is characterized by uniform measurements in the shoulders, bust, waist, and hips, with the shoulders and hips possibly being slightly narrower. The waistline is often undefined in this body shape. For this body type, we recommend exploring wedding dress styles such as A-line or Empire to flatter your figure.
Check Bernadette 18448 for something similar.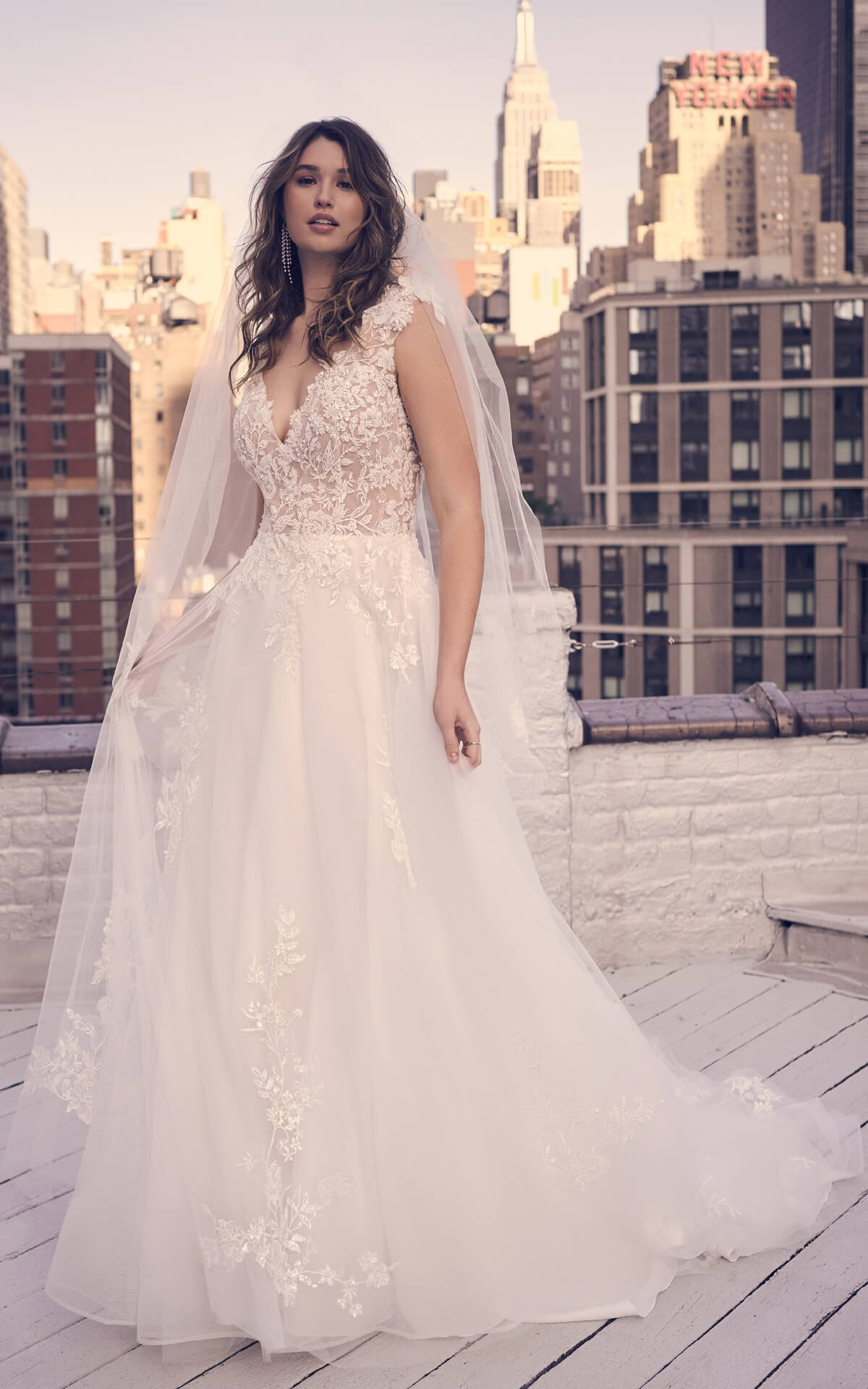 PEAR
If you have a pear-shaped body, your hips are wider than your torso. To draw attention to your smaller waist, we recommend choosing an A-line or ball gown wedding dress that flows down from the waist and conceals your wider hips. A stunning off-the-shoulder dress with a high neckline, such as David Bridal MS251262, would be an ideal choice for you.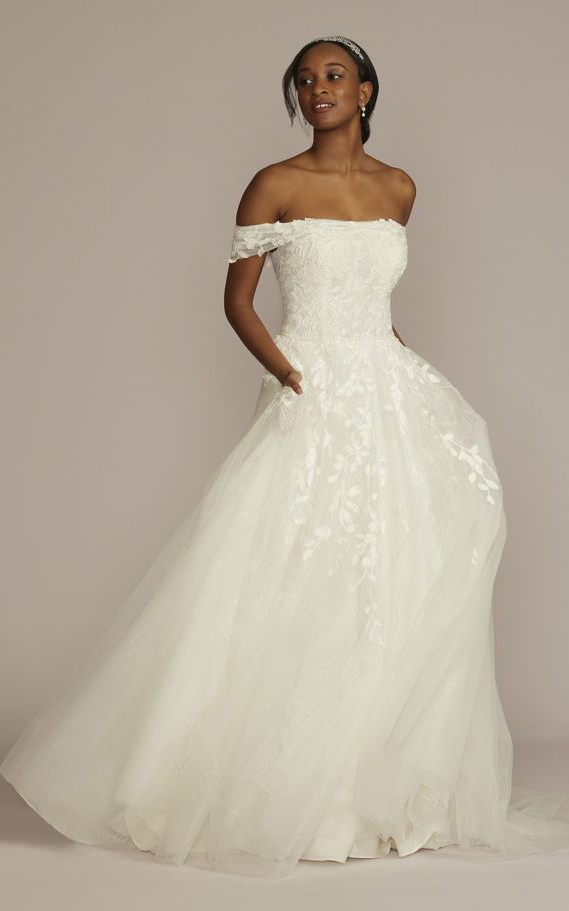 Although wedding dress experts have offered their recommendations, don't be afraid to step outside of your comfort zone and try on that beautiful mermaid dress you've always dreamed of. When searching for your perfect wedding dress, we encourage you to have fun and consider the opinions of your loved ones, but most importantly, trust your own instincts and that little voice inside your head. No one knows you better than yourself, and you'll know what looks best on you. Ultimately, you're the one who will be walking down the aisle, so you should say yes to the dress that makes you feel absolutely stunning both inside and out. Trust your intuition!